Nvidia's GeForce Now finally sold me on cloud gaming
While I've been intrigued by cloud gaming services ever since the launch of OnLive in 2010, I've never had much luck using them.
Services like Microsoft's Xbox Cloud Gaming and Amazon's Luna promise to let you play the latest video games on practically any device, using remote servers that do all the heavy graphics processing. With a fast and reliable internet connection, you can stream games at console quality on phones, lightweight laptops, and smart TVs.
At least that's the elevator pitch. In my experience, game streaming has always been a reminder of what you're missing without an in-house gaming PC or console. Either the graphics are blocky and fuzzy, or the input lag affects the gameplay itself.
Nvidia's GeForce Now changed all that. While the streaming performance isn't perfect and the game selection needs major improvement, in many ways, it's better than any gaming hardware I have at home.
Big PC begone
My recent interest in GeForce Now arose through a few coincidental events.
The first is that I no longer have a gaming PC in my office. After impulse-buying a tiny $300 desktop computer last month, I became so smitten with its ability to quietly handle everyday work that I decided to move my big, noisy desktop tower to the basement for occasional TV gaming.
Shortly after that, I also impulse-bought a curved, ultrawide monitor on deep discount, with 3440×1440 resolution and 100 Hz refresh rate. The more cinematic aspect ratio would be great for gaming, but even my old desktop PC—with its aging GTX 1060 graphics card—wouldn't be powerful enough to handle it.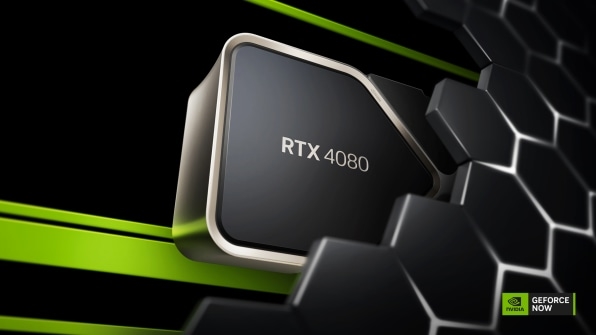 As this was happening, Nvidia was finishing up a major upgrade to the GeForce Now server nearest me. The service's $20-per-month Premium tier now uses RTX 4080 graphics cards, adding support for ultrawide monitors at up to 4K resolution. I'd also attended a briefing with Nvidia at the CES trade show in January, where the company talked up the methods it's been using to reduce latency.
All of which made wanting to give game streaming another try. If GeForce Now worked as advertised on my lightweight desktop and ultrawide monitor, I'd get a better gaming experience than I would even with my current gaming PC.
Not just a compromise
Nvidia set me up on GeForce Now's $20-per-month Premium tier, which I've used to play all manner of twitchy, reflex-driven shooters, including Fortnite, Apex Legends, and the brutally difficult Ultrakill. At its best, GeForce Now made me forget that those games were running off a server in Chicago and streaming to my house in Cincinnati.
I consider myself pretty sensitive to input lag—that is, the time between pressing a button and seeing something happen on the screen—and with my mini-PC plugged into my router with an ethernet cable, the delay was slight enough not to bother me.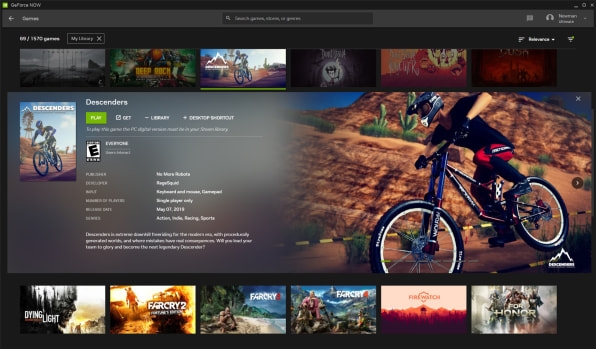 In exchange for that hint of latency, I was able to max out every graphics setting in every game I played. That meant crisp details, impeccable shadows and lighting, and 3D landscapes that rendered all the way to the horizon, all filling out the full width of my ultrawide monitor.
If you're willing to sacrifice those details and limit yourself to 1080p resolution, GeForce Now offers a "competitive" mode that cuts latency to levels I found imperceptible. Still, Nvidia says you need a high refresh rate monitor—at least 120 Hz, or ideally 240 Hz—to reap the full benefits, and I found that this mode performed worse if the connection was at all shaky.
On that note, GeForce Now still demands a speedy, stable internet connection, and I had the best results plugging my computer directly into my Eero router. But I still found the service enjoyable enough to use on my phone with a Razer Kishi controller, connected to Wi-Fi at various points around the house.
For comparison, I jumped over to Microsoft's Xbox Cloud Gaming service for a round of Fortnite, and there was no contest. While the latency levels weren't bad, resolution was limited to 1920x1080p, leaving large black bars on either side of my ultrawide monitor. Even worse, the visuals often became fuzzy and blocky, like watching a video on a low-bandwidth connection. Playing it felt like a compromise, whereas GeForce Now was an actual improvement.
Where GeForce Now needs help
Most game-streaming services take inspiration from Netflix for pricing, offering a smorgasbord of games in exchange for a monthly subscription. GeForce Now's model is different.
Instead of offering its own game catalog, Nvidia lets players bring their own game purchases from Valve's Steam store, the Epic Games Store, and Ubisoft. GeForce Now's free tier lets you play for up to an hour at a time, but with wait times to access Nvidia's servers.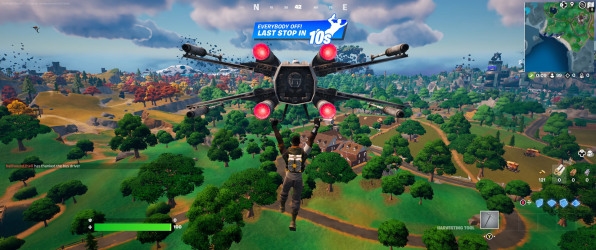 For $10 per month or $50 for six months, a Priority tier reduces the wait, extends play sessions to six hours, and offers better graphics. The Ultimate tier, which I tested, costs $20 per month or $100 for six months. At present, it's the only tier with ultrawide-screen support and up to 240 Hz refresh rates, and extends play sessions to eight hours. ($200 per year may seem steep, but consider that desktop PCs with comparable RTX 4080 graphics cards start at around $2,500.)
In theory, this model is great for folks who already have a catalog of PC games and want to access it in more places. I love being able to play games like Ultrakill or Descenders in GeForce Now, then pick up where I left off on my actual PC and Steam Deck. Nvidia's approach also provides a kind of insurance: Even if GeForce Now ceases to exist, you can pick up a gaming PC and still have access to all the games you bought.
The problem is that GeForce Now just doesn't work with enough games in the first place. Of the 248 games in my Steam library, GeForce Now only supports 54 of them. I have another 70 games in the Epic Games Store, only 20 of which work with GeForce Now. Games from GOG.com, the Microsoft Store, Amazon Games, and Itch.io aren't available at all.
This isn't entirely Nvidia's fault. In GeForce Now's early days, Nvidia allowed players to access any games they already owned, but then publishers raised a stink, and Nvidia started asking them to opt into the service. Getting more games onto GeForce Now has been a slog ever since. Microsoft has at least promised to support the service in the future, but that's only by dint of regulatory pressure.
All of which makes GeForce Now feel like yet another proof of concept in a field that's always been filled with them—just not for technology reasons. While Nvidia has shown that game streaming can match, or in some ways exceed, an actual gaming PC, the business side still has some catching up to do.
(8)