ONSON Cordless Vacuum Cleaner: Powerful Results For a Lightweight
ONSON Cordless Vacuum Cleaner: Powerful Results For a Lightweight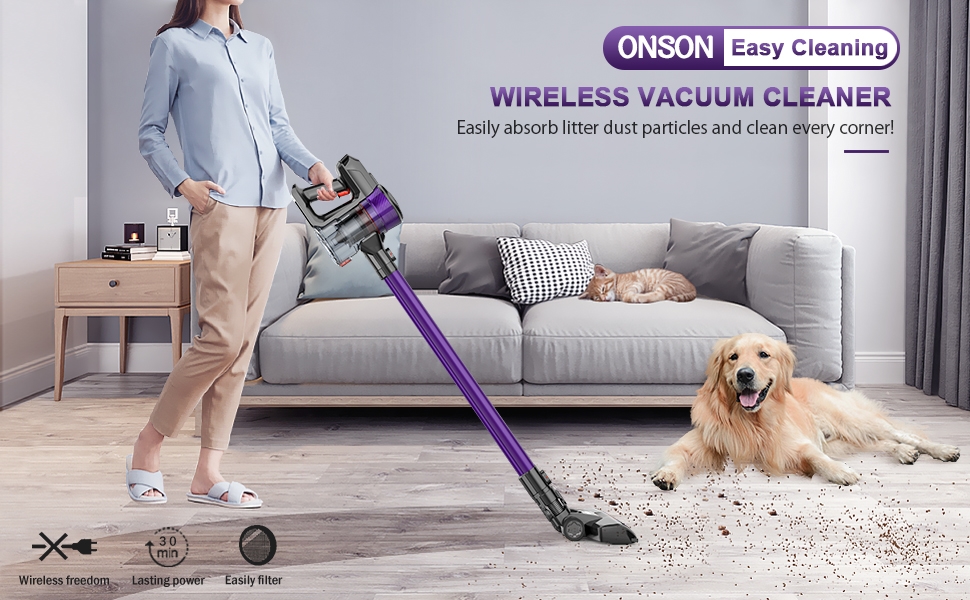 No one particularly likes to be tied to any kind of cord, especially when it comes to trying to get through housecleaning duties as quickly as possible. Cordless vacuums are becoming more popular as a convenient cleaning appliance. It also helps to have something lightweight to zip around and catch all those dust bunnies on the run.
Our family decided it was time to upgrade to a cordless vacuum that we could put through the paces in a busy house with kids. We settled on trying out the ONSON Cordless Stick Vacuum Cleaner. Here's how it worked for us.
Cordless Vacuum Features and Functionality
The ONSON cordless vacuum resembles a stick or tube with a small canister and handles on one end. It's thin and lightweight. It works on all types of floors and does the best job on hard surfaces like laminate, wood, and tile.
The vacuum has two suction modes. There is the "Normal Mode" made for cleaning things like pet hair, dust, dirt, and small debris. Then, "Max Mode" is more powerful and goes to work on larger pieces of debris. There is a flexible motorhead designed to further the cleaning process by changing the angles to get at even the most difficult dirt and dust.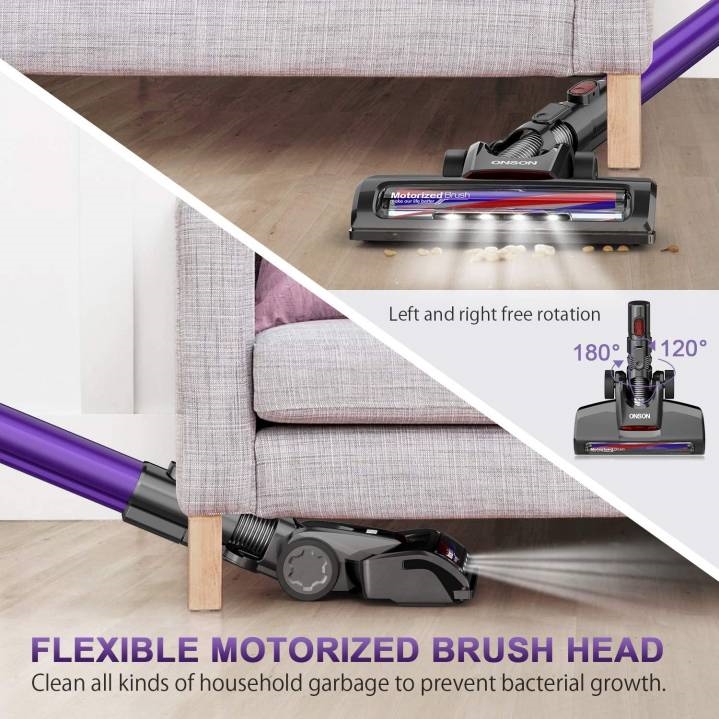 There is a hard-bristled helix-patterned brush roll that is made for vacuuming carpets. Then, the soft double-V rolling brush works best for bare-floor vacuuming.
Other features include a one-liter dirt cup. It goes the distance and is easy to empty. The cordless stick vacuum also has a HEPA filter. The filter is designed to help remove any small particles like allergens. In fact, it offers a four-stage filtration system designed to capture 99.99% of the microscopic dust.
Pros and Cons
This is the easiest vacuum I have ever used. In fact, it doesn't even feel like I'm vacuuming because it weighs just about three pounds. It's simple to move around and gets into tight spaces.
Because it weighs hardly anything and is long, I can even point it toward the ceiling and get those pesky cobwebs in the corners. I have also used it to vacuum our car and many pieces of furniture, including the sofa, just by turning it into a handheld. Plus, we can store it in our utility closet without struggling to make it fit like the big upright vacuum, which we still have.
Another positive is its long run time. It can go for 45 minutes on Standard Mode and 25 minutes on Max Mode. It only takes about five hours for it to reach a full charge.
The con is that this vacuum isn't really made to work with medium to thick carpeting.That is a job that really does require a bulky upright vacuum cleaner.

In the Box
You get a cordless stick vacuum, a crevice nozzle, a 2-in-1 bristle brush, a wall hanger, and access to 12 months of customer service.
Where to Buy
Amazon is your best choice to buy the ONSON cordless stick vacuum cleaner. It is listed or $ 99.99 and comes with free shipping and free returns.
Overall Thoughts
The ONSON cordless stick vacuum cleaner is basic but does a good job at the basics. Just don't think of it as a replacement for your upright, which still has a place to handle any carpeting in your home or larger clean-up jobs. Otherwise, this vacuum offers good value, quality, and convenience.
The post ONSON Cordless Vacuum Cleaner: Powerful Results For a Lightweight appeared first on ReadWrite.
(26)