Product Review: Oculus Quest
Product Review: Oculus Quest
Looking for the perfect gift for the gamer in your life? Wanting to try out VR but don't have the skillset, or wherewithal to build your own tower? The team here at Readwrite was gifted the new Oculus Quest from Facebook and we're excited to share the results with you.
At a glance
Oculus is revolutionizing on-the-go virtual reality gaming. No longer are you required to hook up to a PC, or have those pesky wires tethering you like a ball on a string. As a stand-alone unit, this VR headset packs a punch, allowing you to pick-up and play from just about anywhere. With its internal tracking system, Oculus Quest has also removed the need for external base stations.
Our experience
Right out of the box, it's pretty easy to get started. You turn on the unit, which is already well charged, sign into an account (you can use Facebook for quick setup), download the app on your phone, click to update, and you're ready to game in about 6 minutes. The standard Quest model has 64gb of memory so you've got plenty of drive space. Though I personally would recommend upgrading to the 128gb, if you've got the cash.
Now, I've logged many hours in VR, and I have to say, I'm impressed with Oculus Quest. We may not be seeing some of the beefier games like Fallout quite yet, but having tested out SUPERHOT VR and Beat Saber in multiple VR headsets, I didn't notice any major difference in graphic quality or lag. Which is saying something, because Oculus Quest is a stand-alone unit without the benefit of a high power PC behind it.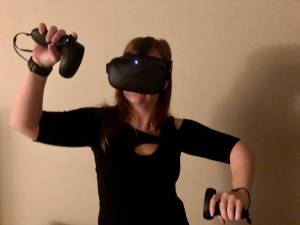 Quest boots up quickly, getting you right back into the action. On startup, a highlighted grid allows you to designate your playable area. This grid appears whenever you are nearing the end of your space, turning red to indicate you should stop moving. But if you go completely outside the grid (not recommended), reality comes back into focus, and hopefully keeps you from running into anything. An unforeseen surprise: I was delighted to find that the Quest remembered my playable area between the office, home, and family home – and booted up to ask if I wanted to use the same area as I had previously at each separate locale.
Many have complained that the starting price of $ 399, with the optional upgrade in hard drive turning into $ 499, but when you consider that you're purchasing the entire system for that price, and it being the only headset that is your one stop shop for a VR gaming experience, that puts pricing pretty on par with other VR gaming options.
I was a little disappointed that the controllers required batteries, instead of just plugging in to charge. But that hasn't stopped me! (The box comes packaged with the AA batteries you'll need, plus 8-ish hours in and I haven't needed to swap batteries yet. The Quest features dual controllers, as opposed to Oculus Go's single controller. Side note: I was also happy at Oculus's return to the sleek black look after Oculus Go's gray. Also worth noting that the Quest's games are stored directly on the device. Giving you the freedom of gaming from just about anywhere, without requiring constant connection to WiFi.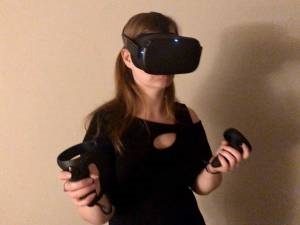 Perhaps my favorite thing about Oculus Quest was its portability. Until now, VR gaming has been limited to the space I keep my desktop, nestled behind my living room TV. Having the setup in the living room meant I had to move furniture any time I wanted to play VR. With Oculus Quest I didn't have to move all the furniture. I just had to set a new boundary, and enter my virtual world.
Pros
Stand-alone VR headset – doesn't require additional hardware or adapters.
No PC needed – that includes setup, gameplay and downloading additional games.
Portability – play just about anywhere.
Remembers your playable area – everywhere you go.
Cons
Less powerful than wired options.
Controllers require batteries.
Conclusion
If you're looking to purchase VR for the first time without needing to buy separate hardware, or simply searching for the perfect gift for the geek in your life, the Oculus Quest is a fantastic option. This was an incredible advancement in VR technology. Especially given its small size/weight, without the need for a PC or external movement sensors. All in all, I'm extremely excited for the future of VR, and Oculus Quest is the next step in that amazing journey. Thank you facebook technologies once again for gifting us Oculus Quest. #OculusPartner
The post Product Review: Oculus Quest appeared first on ReadWrite.
(3)