Report Projects Russian Ad Economy Will Contract Only 19%, Minor Impact On Global Market
Report Projects Russian Ad Economy Will Contract Only 19%, Minor Impact On Global Market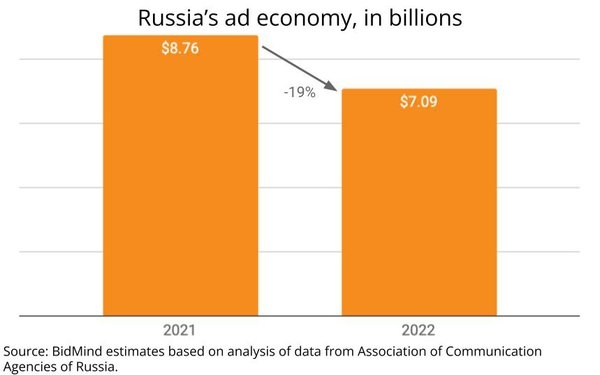 The fall-out from big brands and agencies on Russia's ad economy may not be as severe as previously reported, according to a new report from programmatic media-buying platform BidMind.
Following an in-depth analysis of variety of sources, the Dover, DE-based DSP (demand-side platform) forecasts Russia's ad economy will contract only 19% in 2022, far less than previously published forecasts estimating the Russian economy could lose more than half its advertising revenues due to the pullout of suspension of advertising from major brands, agencies and media platforms in response to its invasion of Ukraine.
BidMind's analysis is based on the fact that foreign ad budgets account to a relatively small share of its market: just 7%. Though for certain media, such as out-of-home, it can be as high as 15%.
The report cites 2021 data from Russia's Association of Communication Agencies of Russia (ACAR), estimating a national ad economy of $8.76 billion, which more than half (54%) allocated to internet media, followed by TV (34%), out-of-home (8%) and radio and print media (3%).
The main reason Russia's ad economy will contract 19% isn't because of cutback by foreign advertisers (which represent only 7% of the nation's total ad spending), but because of the erosion of advertising inventory from media suppliers – especially big digital media platforms such as Google and Meta that have essentially shut down their Russian ad operations.
"The Russian digital ad industry will stagnate most with Google and Meta facing major operational restrictions in Russia," BidMind's report notes, adding, "Google paused Google ads in Russia on March 4th. The decision was made in response to the censorship demand from the state communications regulator Roskomnadzor to stop displaying 'misleading' ads about Russia's war against Ukraine. Ads were disabled in Google search, YouTube, and partnering networks.
"On March 21st, Tverskoy Court of Moscow declared Meta an extremist organization which meant it was forced to disable both Facebook and Instagram business operations in Russia. Banning Instagram ads is a big blow to the local ad market as in 2021 Russian Instagram beauty & travel ad section alone was estimated at 6 to 6.5 billion rubles (around $100 million) in turnover."
The report estimates most of the spending by foreign brands in Russia is handled by the big agency holding companies, most if not all of which have already shutdown or suspended operations in Russia. The BidMind report estimates the impact on their billings will be reduction of about 5% per quarter.
And while the Russian advertising embargo will impact global ad spending levels in 2022, the report projects it will be material, but not devastating.
"Will the crisis in Russia impact foreign digital advertising markets? That's hardly likely," the report concludes, noting, "In 2021, Russian programmatic market ad spend was evaluated as $4.4 billion dollars. In comparison to the global capitalization of $155 billion, the 2% of Russian share will not have a sensible impact."
"Will the crisis in Russia impact foreign digital advertising markets? That's hardly likely," the report concludes.
(9)