Report: Top Users Of Localized Social Seeing Up To 3X Sales Growth
Report: Top Users Of Localized Social Seeing Up To 3X Sales Growth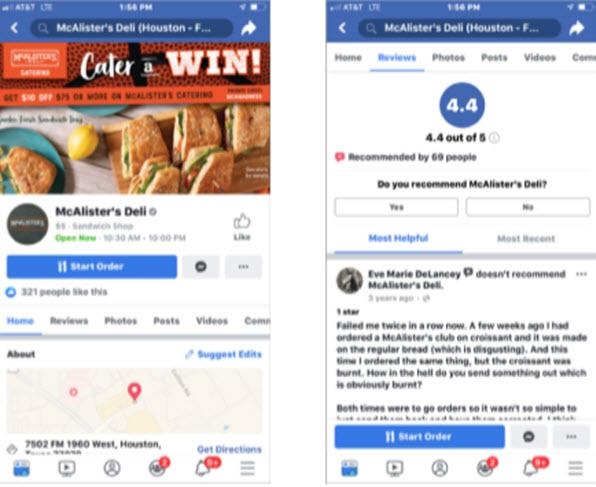 According to a new benchmarking report, franchise brands identified as leaders in use of localized social media (LSM) are realizing two to three times the sales growth of less effective users.
McAlister's Deli and Courtyard by Marriott lead the top 10 ranking of LSM users identified by the first benchmarking report from The Local Search Association (LSA) and social media-reputation management platform SOCi.
Also in the top 10: Culver's, Freddy's Frozen Custard & Steakburgers, Holiday Inn Express, The Camp Transformation Center, Blaze Pizza, Crunch Franchise, Planet Fitness and The Learning Experience Academy of Early Education.
The study also identified nine brands that are LSM leaders in their respective industry categories: uBreakiFix, Valvoline, Ace Hardware, Edible Arrangements, The UPS Store, Chem-Dry Keller Williams Realty and Mosquito Joe.
The study spanned 163 franchise brands, across 10 industries, that made The Franchise Times' top 100 largest franchises ranking and/or Entrepreneur's 100-fastest-growing franchises ranking. Franchises were ranked on a 100-point scale based on examining a random selection of locations for each brand on top LSM platforms Google My Business, Facebook and Yelp.
More than 16,000 individual locations and 50,000 local pages were evaluated. Criteria included formal presence of each franchise location on the top platforms; customer ratings based on volume threshold, stars and comparisons to the category and overall averages; and engagement levels (posting content, responding to reviews, etc.)
Per data from The Franchise Times, average sales growth for the 163 brands was 3.9%, average growth for the industry leaders was 8.9%, and average growth for the top 10 was 12.8%.
Ninety-one percent of consumers use search to find business information locally, and 72% of user engagement and 66% of brand-related impressions happen on Facebook location pages (not corporate pages), according to LSA and SOCi data.
(4)