Samsung Galaxy Book 2 hands-on: A Snapdragon-powered Surface rival
Looks like 2018 is the year of the 2-in-1. Just in the last couple of weeks alone, we've seen the launches of detachables like Google's Pixel Slate, Microsoft's Surface Pro 6 and HP's Spectre Folio. Samsung is introducing a new contestant — the Galaxy Book 2 — at a New York event today. Don't confuse this with the Galaxy Tab S4 that the company also released this year. That device ran Android, while the Book 2 is a Windows machine.
Verizon owns Engadget's parent company, Oath (formerly AOL). Rest assured, Verizon has no control over our coverage. Engadget remains editorially independent.
But it's not just another Surface wannabe. The Galaxy Book 2 packs a Snapdragon 850 processor that helps it achieve gigabit LTE speeds and last up to 20 hours on a charge. Qualcomm said the new chipset would offer 30 percent better performance and battery life than Snapdragon 835-powered PCs. That's all stuff under the hood that we can't see though.
What you can see is the kickstand built into the tablet's back — something its predecessor didn't have. Now you won't have to rely on a case to prop it up. It also makes the device feel much more similar to a Surface, though the Book 2's aluminum kickstand does feel a little thin compared to Microsoft's.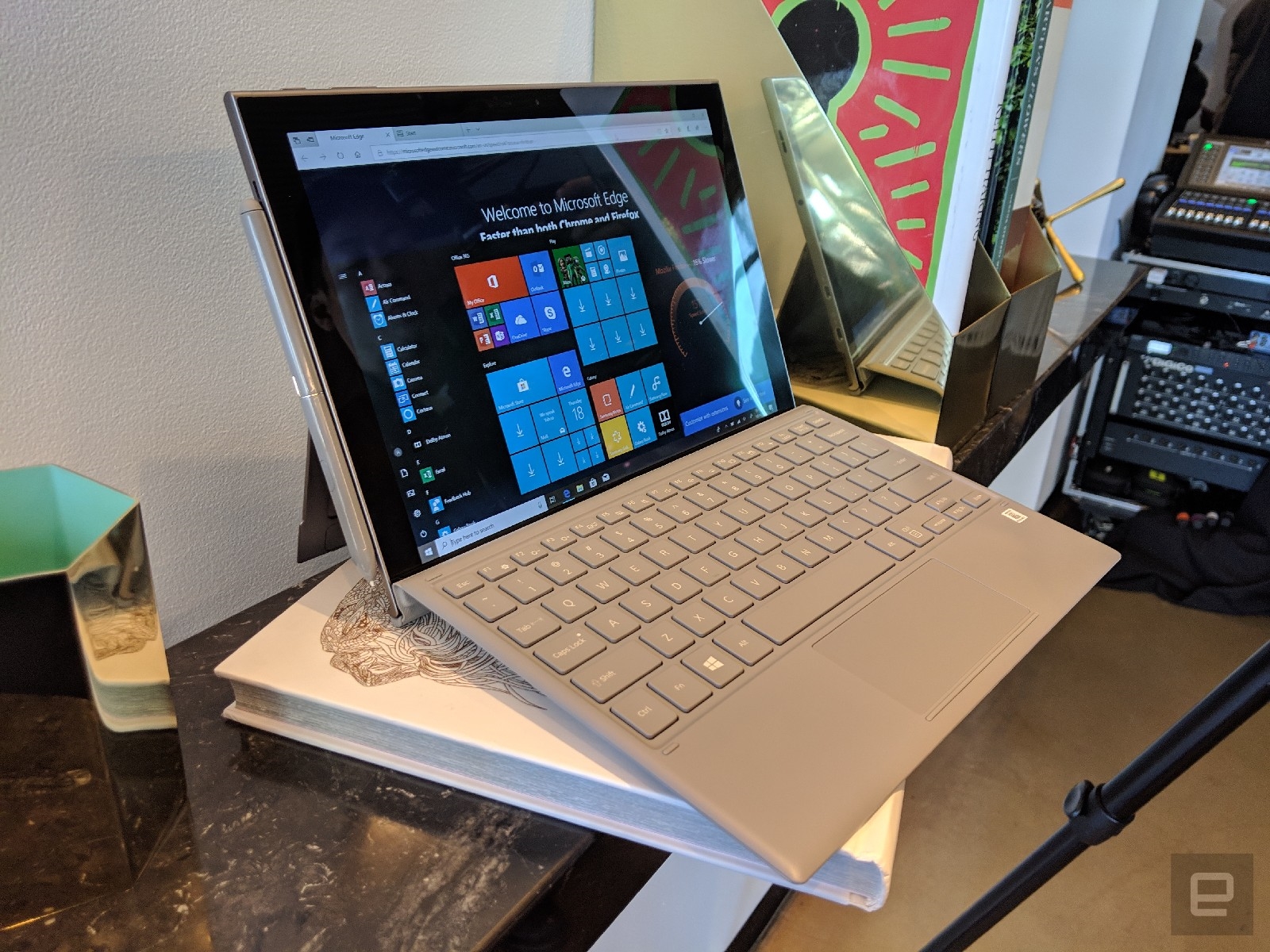 The Galaxy Book 2's new keyboard case attaches to the tablet at an angle, making for a more ergonomic typing experience. The keys themselves are comfortable, offering ample travel and a roomy layout. While I wish the trackpad was slightly larger, I was pleased with its responsiveness — two-fingered scrolling and zooming in and out of websites happened without lag.
There's also a 12-inch AMOLED screen here, which puts it in the same category as the Pixel Slate, Spectre Folio and Surface Pro 6, though the 2,160 x 1,440 resolution (216 ppi) means it's slightly less pixel dense than the Surface and Pixel devices, not to mention the iPad Pro (12-inch). But Samsung's expertise in display tech gives the Galaxy Book 2 gorgeous colors and deep blacks that outshine its rivals.
Something else other 2-in-1s this size don't have (for now) is super speedy cellular radios. "LTE connectivity is really at the center of this device," said Alanna Cotton, Samsung's senior vice president of product marketing. Thanks to the Snapdragon X20 modem, you'll get gigabit LTE speeds, though the Book 2 doesn't appear to support eSIM, which means you'll still have to fiddle with a physical card.
More importantly, this thing has "serious battery life," Cotton said. Samsung promises the Book 2 can last up to 20 hours, which is in line with the estimates given for other Snapdragon-powered PCs like the ASUS NovaGo and HP's Envy x2. Those devices use the older Snapdragon 835 chipset though, compared to the Galaxy Book 2's Snapdragon 850. The only other device that we know of using this processor is Lenovo's Yoga C630, which we haven't been able to test.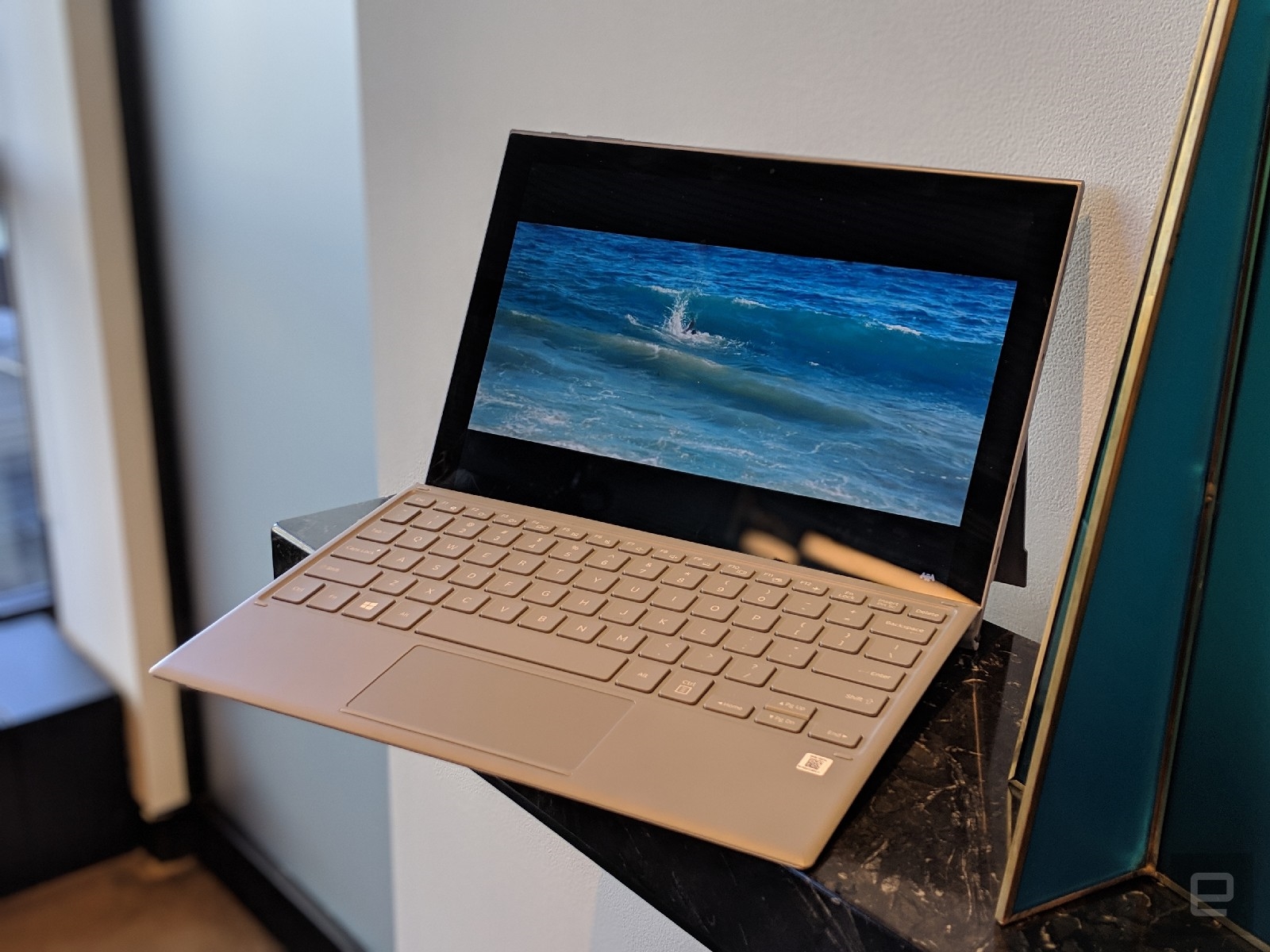 Like other Snapdragon PCs, by the way, the Galaxy Book 2 will ship with Windows 10 S as its default operating system, though you can upgrade to full Windows 10 for free. Samsung's 20-hour battery life promise is based on using the computer in S mode, so I expect to see that number drop if you upgrade to the full desktop OS. That's something you'll most likely do if you want to use this for proper multitasking and productivity, anyway. You may also need to get a dongle, since there are only two USB-C ports on this, as well as a microSD card reader and a headphone jack.
The Galaxy Book 2 will be available on November 2nd for $1,000 on Microsoft, Samsung and AT&T's websites, and through Verizon and Sprint later this year. That's a lot of money to cough up, but at least you'll get the keyboard and S Pen included for that price. I can't quite compare that to things like the Pixel Slate and the Surface Pro yet, since those are Intel-powered machines and cost more depending on the configuration. For now, the Galaxy Book 2 offers a few compelling features that differentiate it from its rivals, but we'll have to spend more time with it to know if it'll truly stand out.
(12)