Search Educators, Chat Bots Or Otherwise
by Laurie Sullivan, Staff Writer @lauriesullivan, October 17, 2016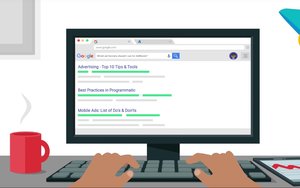 Search advertising can get a little complicated. Google, which launched Academy for Ads, and NetElixir, which launched Ask the Experts, have decided to teach search newbies a thing or two. Both have launched separate educational programs to help those who are just starting out in search advertising or marketing, as well as those who need a refresher on advanced skills.
Google will introduce a class for DoubleClick Campaign Manager within Academy for Ads in the next month, adding to its more than 70 modules at launch that string together in a learning path, according to Tracy Bizelli, head of Academy for Ads.
Users can finish the learning path successfully and take the assessment at the end to earn a badge, which remains on the site. It's not an official certification, but rather more about skills. Bizelli said Google is looking into ways to make the completion of a course "more shareable" with others.
All classes are listed by category or subcategory. Bizelli said each module takes about five minutes in length, but some are packaged into a learning path by product to help people understand where to start and which classes to take.
The classes are being offered in English, but Bizelli said that could expand to other languages in 2017.
Quick, bite-size classes or bits of information seem to be optimal for those looking for information on running search campaign.
NetElixir is in conversations with an unknown company to possibly bring the concept of chat bots to its Ask the Expert tool that marketers can find on LXRMarketplace, according to the company's founder, Udayan Bose. He calls it "uberization" of the space.
"We are speaking with one bot company that would allow professionals to ask a question and get a more in-depth reply," he said. "But we are struggling on deciding the relevancy of a bot, because we already see a certain trend. Many of the questions are very similar and our platform already can respond with the answer."
Those questions are helping the site to build a database of answers partially based on feedback ratings, all for free. This responses allow the tool to anticipate users' questions and provide personalized responses.
Bose calls it "uberization" of the space, where the platform automatically connects the answer with the question.
If the answers are still unclear, users can ask additional questions for a fee. These additional questions are first answered directly by certified NetElixir experts by opening a dialog between user and expert and then are analyzed and added to the question database to help provide better, more specified suggestions for future users.
LXRMarketplace, an online hub of free and low-priced digital marketing Web applications, was created for small business owners either unfamiliar or novices with digital marketing. The site allows users to ask questions on everything from search engine optimization to paid search as its crawlers navigate through the search professional's campaigns.
MediaPost.com: Search Marketing Daily
(1)