Stephen Curry Pistol Pete Maravich [Infographic]
May 7, 2016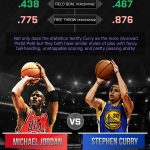 If Stephen Curry keeps up with the pace he is at, he will definitely cement himself as a NBA Legend. Many NBA analyst and experts have already considered Stephen Curry as one of the top 5 point guards to ever play the game. As he continues to destroy every NBA record and lead his team to greatness, he could be considered one of the best players to ever play the game.
You may ask, what does Pistol Pete Maravich have to do with Stephen Curry? We all know that "Pistol" Pete Maravich was a basketball legend who destroyed collegiate records and dazzled the crowd! He set a collegiate scoring record that will most likely never be surpassed. If you have ever seen his biography video, you will be amazed of the work-ethic he had as a kid. He wouldn't take no for an answer to become a great basketball player.
Pistol Pete averaged 44 points per game in a college season and that was without the 3-point line. His crafty ball-handling, scoring and passing ability was before his time. We can say what Pistol Pete accomplished back in the day, is what Steph is doing now, but at a much higher level!
Both of these guys have a high basketball IQ and can/could score with the best of them. Pistol Pete is a basketball legend that even the great Michael Jordan looked up to. Since Curry reminds a lot of us of the late Pete Maravich in his own way, comparing the two in an infographic is only fair.
Check out the Stephen Curry and Pete Maravich Comparison infographic! This info-graphic takes a look at Pete Maravich compared to Stephen Curry from a statistical standpoint. Stephen Curry isn't done with his career, so it is amazing to see the forecast of his journey compared to NBA greats. As a bonus, the infographic compares Stephen Curry to Michael Jordan.
With this infographic, I tried not to be biased since I played basketball with Stephen Curry in college, but it is hard not to value and share his greatness! Enjoy!

Digital & Social Articles on Business 2 Community
(17)