The rise of crypto powered business platforms
The rise of crypto powered business platforms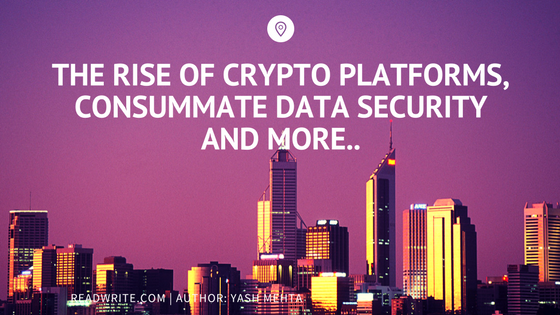 Be it the budding investors making millions of dollars from cryptocurrency or businesses hailing its high data security capability, my attraction for Blockchain grew exponentially when I learned devices could repair themselves in near time future. That's a theory combining Blockchain and Internet of Things leading to a collaboration for a stunningly innovative world.
As for now, nothing is more magical than a platform where one could communicate with truly accomplished professionals. That's true for people from various business communities. These people are losing time and resources by performing strenuous background checks before closing a deal over a business engagement platform.
When security skeptics are assured, crypto based business platforms sound thoroughly promising. Even with high levels of complexity, crypto engineered applications are steadily sneaking into enterprise communications and there's a swathe of perks to steer all our focus towards them. While the centralized cloud solutions' hangover looms, crypto platforms are challenging our idea of a secure and speedy application and credibility of current communication channels.
This tussle amidst centralized and decentralized storage is a strikingly positive hint for the market. New and better alternatives to traditional centralized platforms completely transformed the mobility of these platforms. Although, they still take a step back when data security and authenticity of information shared is at stake.
Moreover, crypto platforms make it almost impossible to manipulate historical data attached to someone's professional details. This is also true for specific transactions, leaving behind utmost clarity to measure a user's credibility. Effectively rendering the biggest nightmare for traditional platforms no longer a problem.
Nevertheless, crypto platforms experience criticism when 'throwing data to the unknown' comes as a threat and when the technology has crossed the peak of Gartner's Hype Cycle.
So, was it all a fuss for a time? Plus China banning ICOs, is that the end? Is the common investor no more up for the 'Now' thing?
Not a sign of worry for Alexander Neymark, Founder and CEO of Ties.Network business platform and laughing off at the idea of crypto platforms fading sooner during our brief meeting at a blockchain event in Moscow.
He said, "Look at the response we have won. The surge of interest in cryptocurrencies and decentralized economy is a direct proof of people's disappointment in the classical system of commodity-money relations and professional networking, and their attempt to escape into the counter-economy."
Asserting further, he said Smart Contracts have been in the business for 2 decades but become useful when platforms like Ties.Network are in complete sync with the idea of 'Formalizing and Securing Relationships on a Public Network' while still enforcing critical business negotiations.
'We are assisting thousands of professionals engage and close high value deals in a matter minutes post initial discussion, adds Alexander. He confidently walked me through the portal that allows everything from communicating, recruiting, reviewing and contracting for professionals from all enterprise backgrounds.
Having eliminated the tedious cycle of formulating and signing deals, Ties.Network is marching towards instant cash flows and null delays in business processes. Be it the 'Genuine Rating System' or readily available community of Experts, Ties.Network stays true to Due Diligence that has been a matter of concern with most Crypto based platforms.
Like an Escrow System, the portal brings both parties agree upon a contract more seamlessly. What's more impressive for me is the quick payouts for performances as agreed upon in the Smart Contracts.
And How does it exactly work? Ties.Network works on an Ethereum-based business platform built on Ties.DB. It is world's first distributed database for decentralized structured data storage which allows for advanced search and document modification. Watch out for more apps churning out of Ties.DB when it is made available for external adaptation. We have commenced partnering with decentralized projects like CanYa to allow them to use Ties.DB. You can learn more about Ties.DB from their technical paper (yellow paper).
Wrap-up
Joining the ICO bandwagon, the innate desire to capitalize upon unregulated data flow has resulted in a multitude of new services. The idea of distributed business platforms offering greatest possible anonymity in transactions seems to have struck the chord with the user. The hugely lucrative choice to launch projects sooner and boost trading practices has garnered the support of enterprise sectors. Anonymity and full access to past information retains the ability to change the way business happens and crypto platforms are the technology to enable this.
The post The rise of crypto powered business platforms appeared first on ReadWrite.
(28)