The simple yet elusive key to fighting the climate crisis: More trees
By Sarah Sax
Other experts and studies have come to similar conclusions. A recent study argued that avoiding deforestation, reforestation and other "natural climate solutions" could provide over a third of the CO2 mitigation needed through 2030 to reach the Paris Agreement goals. The Global Deal for Nature (GDN) suggests a pathway to below 1.5°C that focuses on formally protecting 30% of Earth and designating an additional 20% as climate stabilization areas by 2030.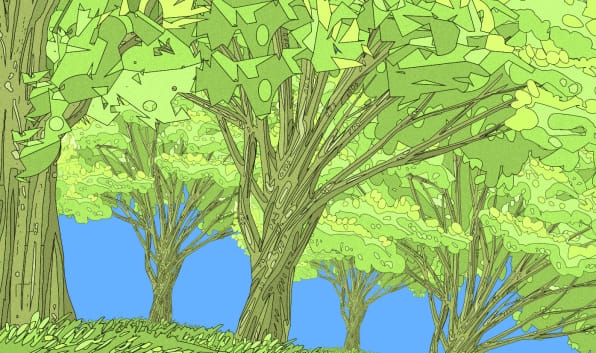 Deforestation shows no signs of slowing down
According to the study, tropical reforestation holds the largest sequestration potential?–?but tropical deforestation is the largest contributor to land-use emissions globally.
"Currently, the biggest challenge is that land is a carbon source," Dooley said. All forestry, agriculture and land use would have to become a major net global sink in her study, eventually sequestering twice as much carbon as they currently emit.
Tropical deforestation is caused by just a handful of crops?–?soy, beef, timber, and palm oil. Some estimates suggest that cattle operations alone could be responsible for half of global deforestation. The United Nations' Sustainable Development Goal to "promote the implementation of sustainable management of all types of forests, halt deforestation, restore degraded forests and substantially increase afforestation and reforestation globally by 2020[a5]," will unlikely be met, despite the increase in pledges such as The New York Declaration on Forests, the Amsterdam Declaration, the Bonn Challenge, the Consumer Goods Forum, and the Tropical Forest Alliance. Most of these share the goal of halving deforestation by 2020, eliminating it by 2030, and restoring 350 million hectares of forest?–?assumptions used in Dooley's pathway to 1.5 degrees C.
"From a policy point of view, achieving these targets really relies on companies achieving zero-deforestation by 2030," says Dooley. "But the emphasis needs to be on intact forests that have the highest carbon-sequestration potential, not on tree plantations or low-value forests."
Hundreds of individual companies have signed onto these zero-deforestation or deforestation-free pledges. According to a 2017 report of Forest Trends, at least 477 companies have some form of voluntary zero-deforestation supply chain initiative. However, evidence that these pledges work is still sparse; a lack of definition over what zero deforestation means, as well as a lack of government regulation to hold companies accountable, are increasingly seen as major obstacles.
(2)