The Toll Of FIFA's Corruption, In Two Simple Charts
What's the cost of corruption? 1,200 lives and counting.
Authorities worldwide have partnered to take down FIFA officials for soliciting $150 million in bribes that steered the fate of professional soccer for years.
One of the biggest offenses was giving Qatar, a country notorious for exploiting the rights of migrant workers, the 2022 World Cup. The International Trade Union Confederation estimates that 1,200 workers have died building infrastructure for the World Cup so far, and that 4,000 more could die by 2022.
But construction is dangerous work, right? How bad are things, really? That's what these two graphics address. They compare the deaths tallied in Qatar's construction with the deaths recorded during the buildup to other World Cup and Olympic games. The first, from the Washington Post, tallies each person:
That three-column organization actually masks the scale. So I prefer this second graph—knocked out by London Loves Business on Chartmaker. It's one, big bar chart, with the deaths logged in Qatar towering over everything else—in red.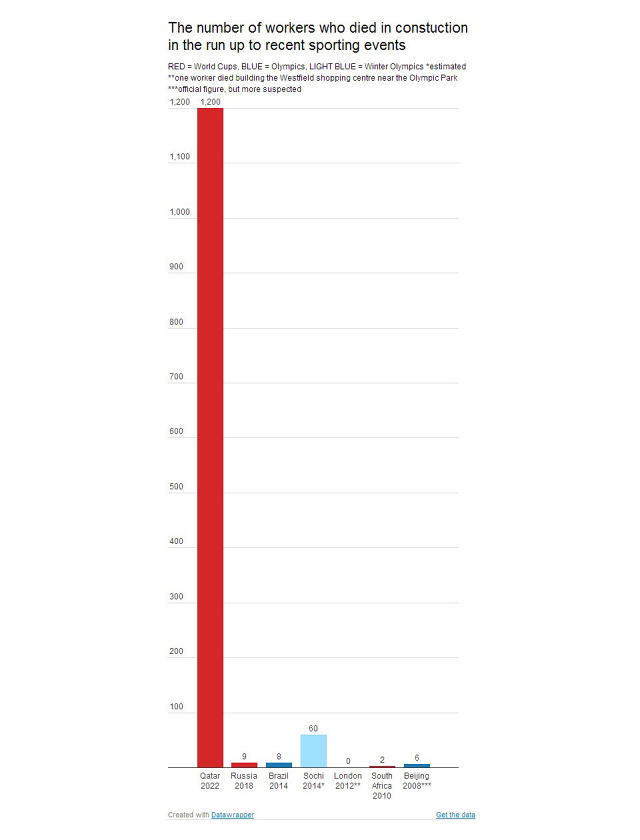 If nothing changes in Qatar, that big red bar will more than triple in height by 2022.
[via Randy Olson]
[Photo: MICHAEL BUHOLZER/AFP/Getty Images
(172)