This company is making it easier to turn your home into the set of your favorite show
By Yasmin Gagne
For several years, networks and streaming services have launched and popularized fashion trends—think Kendall Roy's Lanvin sneakers on Succession, or Molly Goddard's fluffy tulle dress on Killing Eve's Villanelle. But few networks have yet been able to see any profit from their trendsetting abilities.
A new venture called Shop the Scenes aims to change that. Launched in November by ecommerce exec, QVC personality, and Today show contributor Jill Martin and Yellowstone Executive Producer David Glasser's 101 Studios, Shop The Scenes lets viewers scan a QR code displayed on screen during ads and shop to items featured in specific scenes or episodes of the show they are watching.
"People have tried to sell merch from shows before, but we are working directly with showrunners, costume designers, and set designers, to bring the consumer authentic items—not lookalikes—from the show they can't find anywhere else," Martin says. Shop The Scenes gets scripts in advance and costume designers let the company know what characters will be wearing or using, the company then works with manufacturers to make items available in time for the episode they are featured in.
Paramount+ megahit Yellowstone—a drama about a family of ranchers starring Kevin Costner as the patriarch—is the first scripted streaming show to incorporate the technology, giving viewers the ability to buy the dinnerware that the Dutton family uses and costumes like a faux-fur jacket worn by Beth (played by Kelly Reilly) and a cowboy hat sported by Cole Hauser's character Rip. Items available on the site range in price from $20 for coffee cup to $3,200 for the chair in the office of Costner's John Dutton.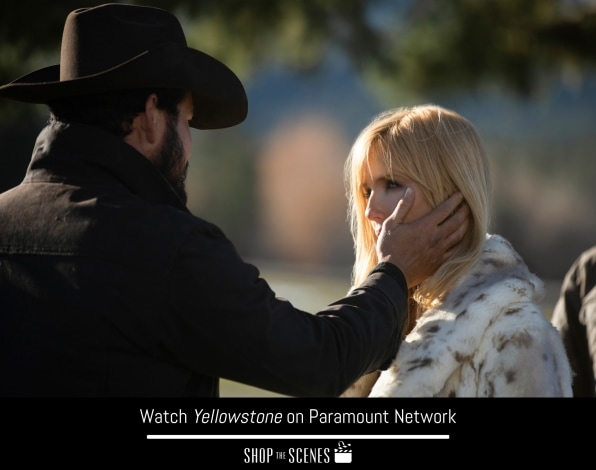 Martin says that fans spend an average of six minutes of engaged time on the site and an average of $200. She adds that shoppers spread across age groups, from ages 25 to 65 were shopping on the site.
Paramount+ is not the only network partnering with the company. Soon, customers will be able to shop for clothes and accessories from and inspired by Netflix hit Emily in Paris—including a Chez Lavaux hoodie and suitcases featuring the large face of fictional designer Pierre Cadault—when its third season debuts December 21st.
Shop The Scenes works with showrunners and networks to incorporate their QR codes organically. "With Yellowstone, we have ads before and after the show with QR codes for people to shop the episode. Netflix doesn't have ads so we work with paid marketing, social media, and in-person activations to reach more customers." Martin says.
Paramount+ is not the first to explore commerce as a way to pull in extra revenue from its IP. In June 2021, Netflix worked with Shopify to launch its own store, Netflix.shop, which lets viewers login and shop merch from some of their favorite shows as a way of creating a new revenue stream as its customer growth slowed down. It has also opened pop-up shopping experiences, like a store at The Grove in Los Angeles stocked with merch from Stranger Things, Bridgerton, and other series, to reach more shoppers. The streaming service is also working with Walmart, Sephora, Amazon, and Target to sell merchandise related to its properties. Rival company Disney has sold merchandise for years online and through a brick-and-mortar presence, collaborations with other stores, and at their theme parks.
Martin points out that Shop The Scenes created its own distribution network, with centralized warehouses and its own cart, giving them more control over the manufacturing, pricing, and distribution of goods. "We are the marketplace," she says, noting that Shop The Scenes is working with some 24 shows and feature films at a host of studios and streamers through 2024. "We work with manufacturers and studios, and everything goes through our cart. There are so many moving pieces, so much inventory, and we control the whole process."
(11)