This Just Inbox… Email, Not Content Or Commerce, Still Dominates Consumer Online Behavior
This Just Inbox… Email, Not Content Or Commerce, Still Dominates Consumer Online Behavior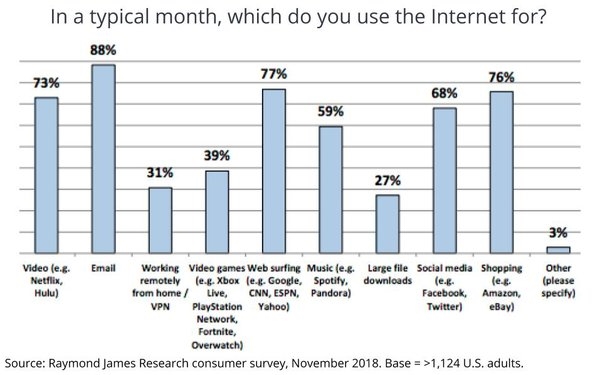 Madison Avenue — and its super premium supply chain — often acts like video, audio or even static content is the dominant reason people use the Internet, but when asked, Americans cite interpersonal communications as their top activity.
That's what the equities research team at Raymond James affirmed when it conducted a national survey of consumers as part of its ongoing tracking of the video and TV marketplace. While the consumption of over-the-top video programming (Netflix, Hulu, etc.) is indeed a primary activity (cited by 73% of respondents), email is far and away the reason cited by the most (88%) Americans.
Good old-fashioned "web surfing" (77%), followed by online shopping (76%), were the next most-cited activities.
The findings are self-reported and don't account for the volume of time spent with each function, but it's a stark reminder that the dominant use of the Internet still is peer-to-peer communication.
(5)