This 'upcycled' tower is a '70s-era building in disguise
Hidden inside the recently crowned World Building of the Year is a 1970s office building. Located near Sydney, Australia's central business district, that simple 45-story rectangular building, originally built in 1976, had been falling out of favor in recent years and losing tenants to newer towers. To compete, the building's owner, AMP Capital, decided to do something new. But not that new.
An international competition was launched in 2014 to redesign the building, with a few key stipulations. The existing building would not be demolished, and any new design would have to keep as much of the original structure as possible. Rather than a teardown, the building's owners wanted a facelift.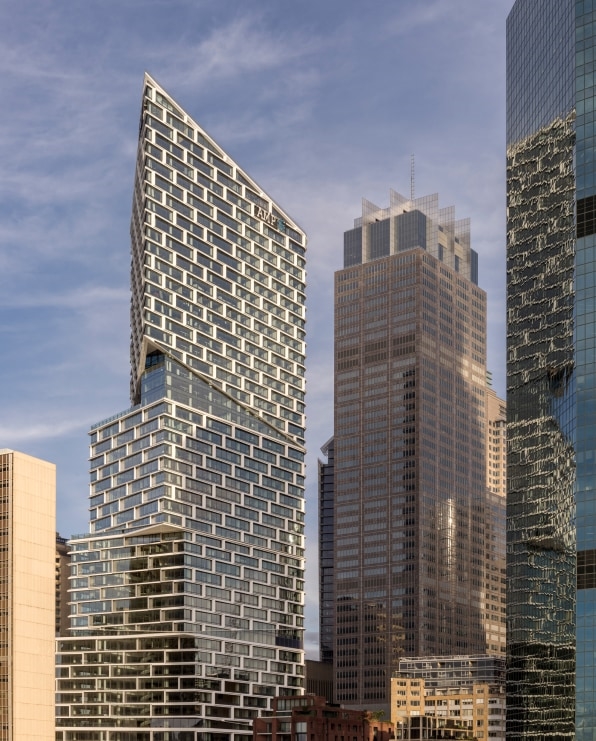 The competition's winning design came from the Danish architecture firm 3XN, which did more than just slap a new face on the building. 3XN's design preserved most of the original building's concrete structure and core while dramatically reshaping its rectangular floor plates into a stack of rotating trapezoids that optimize views of nearby Sydney Harbor and the iconic Sydney Opera House. The 49-story building, now named Quay Quarter Tower, is being called the world's first upcycled skyscraper.
"Both from a sustainability point of view and also from an economic point of view, in the future we need to reuse as much as possible the existing structures we have around the world," says Kim Herforth Nielsen, founder of 3XN. "And we've learned in this big case here that it's doable."
Quay Quarter Tower retains 65% of the concrete floor slabs, beams, and columns, as well as 95% of the concrete core holding elevator shafts and emergency stairs. Additional square footage has been grafted onto some floor slabs and carved back in others to create newly shaped floor plates, and four new stories have been added on top.
Large atriums have been sliced throughout the building, helping bring natural light into each 21,000 square foot floor, while also drawing more spatial connections for companies operating on several floors within the tower. An overhanging brick pattern facade treatment doubles as passive sun shading, shielding the building from 30% of its solar gain and eliminating the need for view-obstructing blinds. The overall square footage is now twice that of the original building, and it can now hold double the amount of people.
These design moves have notable environmental advantages. Reusing so much of the structure and core cut the building's overall materials requirement, reducing its environmental footprint by 13,000 tons of embodied carbon (the equivalent of nearly 5,000 return flights between Sydney and Copenhagen). And with the exterior shading facade and the lower cooling requirements it enables, the operational carbon emissions are also expected to be significantly lower than the original building's, despite its greater capacity.
Upcycling the original building into this modern version also helped the project's bottom line. "We saved close to a year in building time by keeping the old structure," says Nielsen. That translates to about 150 million Australian dollars, or $100 million. It also meant that the building's owners were able to start generating revenue from tenants one year earlier. And tenants were ready for the building; 85% of the space was leased before the project even started construction.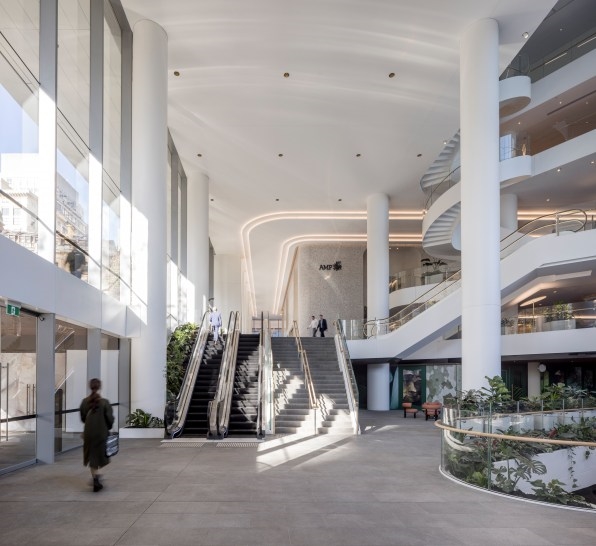 Fred Holt, a 3XN partner in charge of the project says this upcycling approach has relevance around the world. 3XN has several projects underway now that aim to save and reuse existing buildings while giving them new forms. As long as they have stable concrete cores and structures, and reasonably tall floor-to-ceiling heights, many older buildings can feasibly be upcycled to meet modern needs and environmental standards.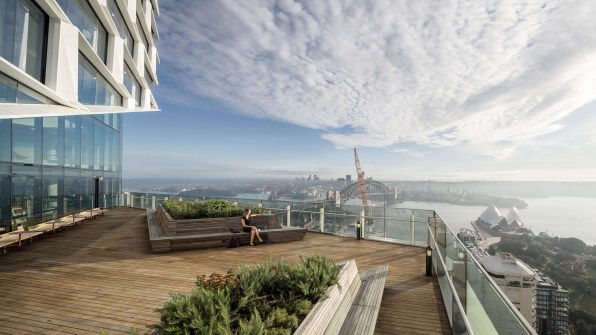 "For adaptive reuse, I think the way one would have thought about it ten or even five years ago is that there's always a compromise to commercial viability," says Holt. "What we've shown with Quay Quarter Tower is you don't have to compromise to be environmentally sustainable by upcycling, and it also in fact saves you money."
(12)