Tripadvisor Rebrands, Relaunches Self-Serve Ad Platform As Consumers Rethink Travel Plans
Tripadvisor Rebrands, Relaunches Self-Serve Ad Platform As Consumers Rethink Travel Plans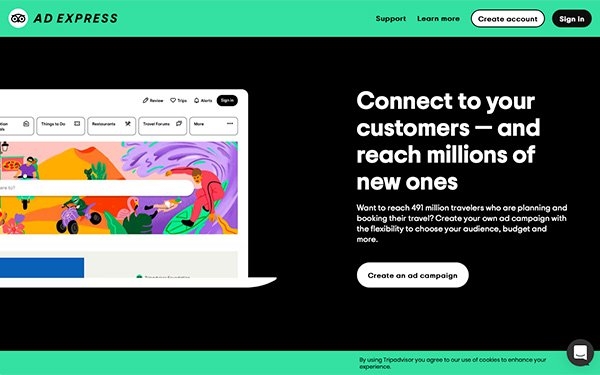 Tripadvisor has rebranded its ad platform from Media Manager, which launched in 2019, to Ad Express and has introduced new features and product enhancements. The changes to the self-service advertising platform are intended to better support brand advertisers.
Christine Maguire, vice president and general manager of media at Tripadvisor, believes the improvements introduced with the launch of Tripadvisor Ad Express will enable businesses to upload campaigns quickly, and reach millions of highly engaged travel and leisure shoppers.
Some 70% of consumers in the United States plan to travel in the next 12 months for leisure. About 47% plan to take two or more leisure trips, according to a Nerdwallet survey fielded in February and released in March.
The automated tool, which now supports more than 20 currencies, allows marketers to define audiences, budgets and advertising formats, and upload creative assets to create, manage and optimize campaigns without having to start from scratch.
Advertisers can reuse previously accepted creatives without having to go through the approval process, reducing the time spent uploading or building a creative for future campaigns.
Tripadvisor developed Ad Express in partnership with DanAds, a provider of self-service advertising technology.
Changes also include a revised website and design that offers a simplified interface for Tripadvisor Ad Express customers, along with tailored user experiences for specific advertiser categories like destination management organizers and agencies.
The real-time dashboards now make it possible for advertisers to see how and where investments are spent, and an easy-to-understand view of campaign performance.
Multiuser enabled accounts allow agencies with multiple users to access the same account, making it simpler for teams to collaborate in the platform.
Inflation, gas prices, and other economic factors will have an impact on travel this year, according to findings from 4,000 American travelers collected in April 2022, released in May by Destination Analysts.
Advertisers will need to get creative this year. It could become a challenge to convince some consumers to spend money on travel. Inflation in consumer prices has led 23.2% of American travelers to cancel an upcoming trip, while 38.3% of American travelers agree that high prices have kept them from traveling in the past month.
If gasoline prices don't come down, 58.0% of American travelers predict they will be taking fewer road trips this spring and summer, and 60.4% predict they will be staying closer to home on their road trips, according to the data.
Americans are still prioritizing their leisure travel. Nearly 90% have trips planned — 3.0 on average. And despite the economic concerns, 60.6% continue to say their leisure travel is a high priority in their budget for the next three months. They just want to use their money wisely.
The automated tool allows marketers to define audiences, budgets and ad formats, and upload creative assets to create, manage and optimize campaigns without having to start from scratch.
(9)