Uber announces app upgrades for drivers ahead of its earnings report
By Jessica Bursztynsky
Uber is adding a number of upgrades to its app in an effort to bring more drivers to the platform.
In the coming months, drivers in most U.S. markets will be able to see projected earnings before accepting a trip, as well as a user's requested destination—two features gig workers have long demanded. The company first started piloting the Upfront Fares feature in February.
Uber is also rolling out a feature that lets drivers choose from a list of nearby trips, allowing them to bypass the trip they may had been assigned.
Uber's announcement comes just before the company is expected to report its second quarter financial results. Investors on Tuesday will get a look into Uber's progress in bringing back drivers and keeping them on the platform. In May, Uber CEO Dara Khosrowshahi said its driver base was at a post-pandemic high and that it wouldn't need to make "significant incremental incentive investments."
"Our need to increase the number of drivers on the platform is nothing new nor is it a surprise," Khosrowshahi said on an investor call later that day to discuss its Q1 results. "There's a lot of work ahead of us, but this is a machine that is rolling."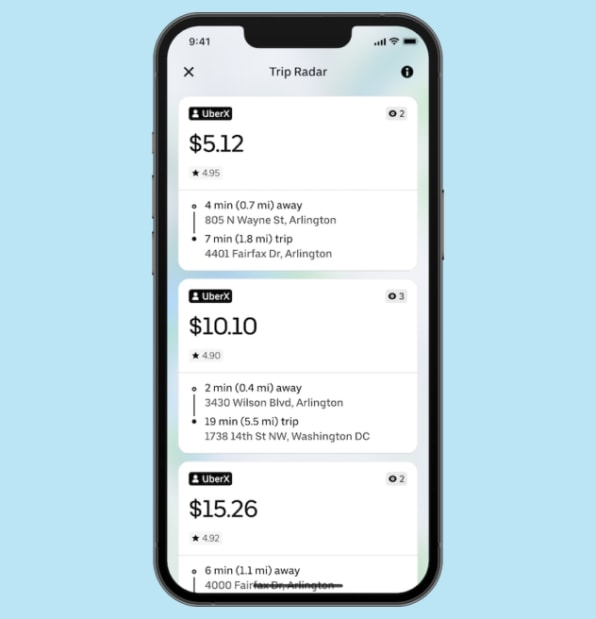 Ridesharing companies, including Uber and Lyft, have struggled since the COVID-19 pandemic hit in 2020. Companies had to rely on pricy incentives to bring drivers back, which weighed on financials. The supply of drivers had seemed to stabilize earlier this year, but Russia's war on Ukraine then caused significant hikes in fuel prices, leading some analysts to speculate whether drivers would leave their respective platforms.
Uber on Friday said it was also launching a new debit card and checking account to help drivers save on gas and fees. When drivers pay for gas with the Uber card, they'll receive cash back at any gas station in any city. The higher the drivers' loyalty status, the more cash back the person will receive.
The card will be available to all drivers in the coming months, Uber said.
(14)