Universal Studios Hollywood's new Super Nintendo World is 100% pure Nintendo
Earlier this week, I got the chance to ride the latest game in Nintendo's 30-year-old Mario Kart franchise.
The Mario Kart in question is Mario Kart: Bowser's Challenge, the flagship attraction at Super Nintendo World, a new area opening today at the Universal Studios Hollywood theme park in Los Angeles. And calling it a game you can ride is indeed the best way to describe it.
As anyone who's ever played any version of Mario Kart can guess, this new experience involves zipping around in a cute little racing car on a track. But as you race past Nintendo characters, you might lose track of which ones have been recreated in robotic form, which are being projected on giant screens, and which are rendered on the augmented-reality goggles you wear on the ride. And just like in a Mario Kart video game, you can collect coins and lob shells at enemies as you go, adding a competitive element to what might otherwise have been (extremely engaging) passive entertainment. It's Mario Kart, all right—just in an immersive new form.
Just hanging out and gawking at all the details drawn from Nintendo canon is entertaining.
Theme-park entertainment has been drawing inspiration from other media since the heyday of Mr. Toad's Wild Ride, but Super Nintendo World might be the most ambitiously faithful recreation of them all. Universal has crammed Nintendo's fabled Mushroom Kingdom into a corner of the on-premises park at its movie studio—it reportedly knocked down a couple of soundstages to make room—and it's as precise a transformation of digital into physical as you could imagine.
Just hanging out and gawking at all the details drawn from Nintendo canon is entertaining. But you can also compete with other visitors to collect virtual coins by engaging in activities, such as whacking the undersides of orange cubes scattered throughout the park, that probably wouldn't even make sense if a couple of generations of people hadn't grown up doing them in Mario games. (That element of the experience requires investing in a $40 wearable Power Up Band, which uses NFC to keep tabs on your handiwork.)
Even the Toadstool Cafe eatery goes all-in with its Nintendo theming, with projected scenes of toadstools at work preparing the food. (You can spend $25 on a Chef Toad Shortrib Special, but I recommend the Luigi Burger.)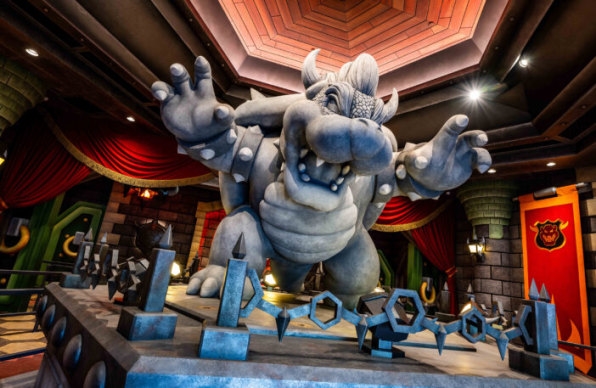 Beyond the console
During my time in Super Nintendo World, I got to pal around with Mario and Luigi long enough for a photo op, as every visitor will want to do. I also got face time with Bowser—not Mario's mortal enemy, who bedevils riders in the Mario Kart ride, but Doug Bowser, who oversees the Japanese gaming giant's U.S. business as president of Nintendo of America.
Almost two years ago, I spoke with Bowser and Nintendo global president Shuntaro Furukawa about the company's expansion beyond its traditional gaming business. That effort includes the new Super Nintendo World at Universal Studios Hollywood as well as one at Universal Studios Japan in Osaka, which opened two years ago, and upcoming versions at Universal outposts in Florida and Singapore. In April, Nintendo's first movie (well, in 30 years) arrives: The Super Mario Bros. Movie, a collaboration with Despicable Me's Illumination. Nintendo's forays into mobile gaming and merchandise are also part of this broadening of its ambitions, which—given the long gestation period for something like a theme-park attraction or motion picture—are still playing out.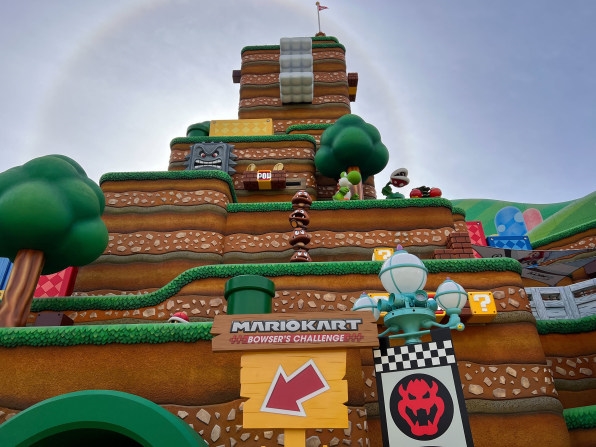 All of these projects are "really about making that transformation from being just a dedicated video game company to becoming more of an entertainment company," says Bowser. "And I think that's what's important, that people see us as an entertainment choice."
If the masses do come to Nintendo for more forms of entertainment, it will smooth out some of the challenges inherent to the gaming business. The company's 6-year-old Switch console has been a triumph: It's now the third best-selling game console of all time. But earlier this month, Nintendo reported sales of Switch hardware that were softer than expected, likely reflecting the fact that it's passed middle age in console years. Nintendo's next huge hardware boom can't come until the arrival of the Switch's successor—whatever it is, and whenever it shows up.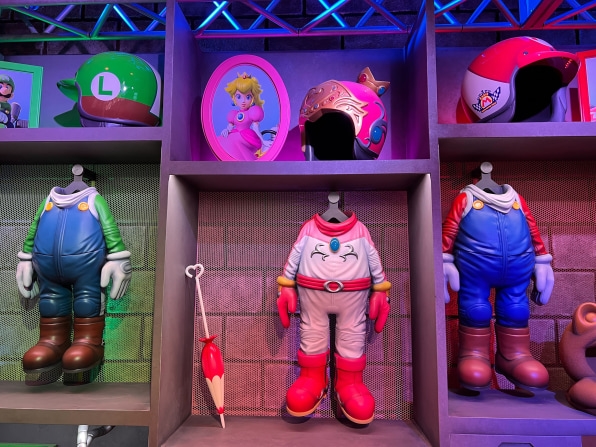 "There is that known cycle that occurs with video games," Bowser says. "And if we can soften some of those transitions, I think that's one of the benefits of all these endeavors."
Any perception that Nintendo sees its new businesses purely as expedient ways to boost its bottom line should be dispelled by Super Nintendo World's obsessive degree of faithfulness to the games that inspired it. As Bowser notes, Nintendo has spent four decades nurturing its intellectual property in video-game form, starting when its resident genius, Shigeru Miyamoto, who came up with the idea for an arcade game called Donkey Kong. His protective nature and active participation in Super Nintendo World's creation guaranteed that it would capture the requisite Nintendo-ness. "For us, and for Miyamoto-san in particular, really ensuring that it is that almost literal translation of the video game experience into a real-life experience is very, very important," says Bowser.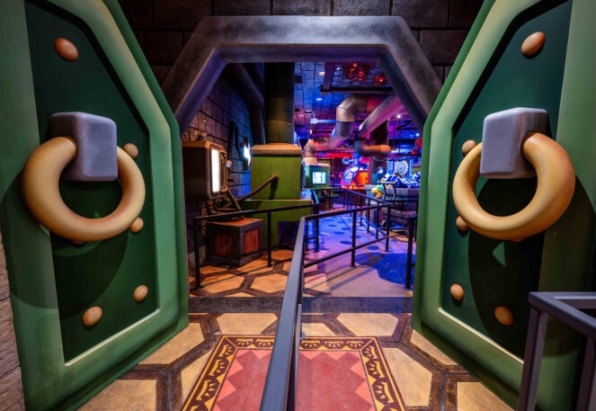 The next big test for Nintendo's translation of its games into new media is The Super Mario Bros. Movie. That too will reflect Miyamoto's involvement, and it certainly looks good in trailer form. But like just about every other animated feature of the past gazillion years, it features an all-star voice cast. The fact that Mario will sound pretty much exactly like Chris Pratt has given Nintendo fans a topic for passionate debate while they wait for the film to arrive.
"In the end, it's all about the entertainment experience that they'll get from this [movie], and I think that, overwhelmingly, the response has been very positive to the movie and the characters," says Bowser. He adds that "we are working on other video projects—we haven't spoken to what they may be."
Other brand extensions that aren't subject to the same level of intense fan scrutiny as a theme park or a movie are also part of the mix. Among the company's most popular merchandise collaborations, according to Bowser, is its work with Lego. It's led to products such as a 2,800-piece kit that lets you build Bowser—the bad guy, not the executive.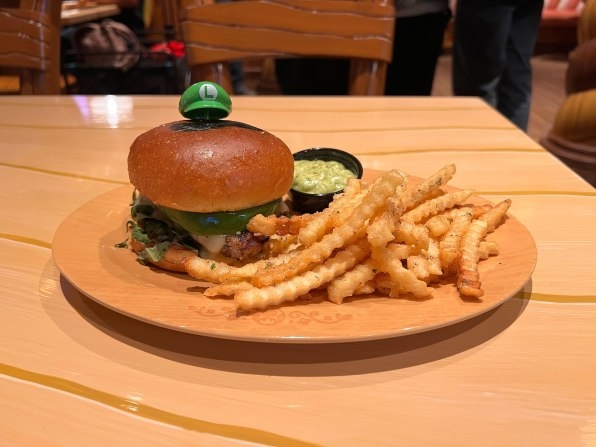 Then there's smartphone gaming, which some people once saw as an existential threat to Nintendo's own hardware. But iPhone and Android games, such as Super Mario Kart Tour, have turned out to be more of a supplemental business than a sea change. If nothing else, Bowser says, they let the company reach consumers in regions beyond the 100-plus countries where the Switch is available.
Squeezing Mario onto smartphones may be a sideline, and even Super Nintendo World isn't going to displace Nintendo games on its own hardware as the defining expression of its creativity. People who spend time with Mario and friends at Universal Studios for the first time—or the first time in a while—"may want to have an equally immersive and deep experience playing one of our games on a Nintendo Switch," muses Bowser. But he also calls the new theme park land "a celebration of Nintendo fans." Both familiar and surprising, as the best Mario games have always been, it lives up to that aspiration.
(5)