Why Offshoring Is Increasing In Accounting Firms Post-Pandemic?
Covid-19 has caused several disruptions in team building and management across a wide variety of sectors and businesses. Although the general prognosis for offshore staffing has improved, there are still some doubts, particularly in the context of accounting firms. There are several concerns, including whether outsourcing would essentially replace' the present staff; client concern; and the knowledge and skill levels of the offshore employees. There is, of course, the problem of data security, as accounting entails the exchange of confidential information.
Post-pandemic, offshore staffing has become generally accepted by accounting firms, to the point that even the smallest firms have begun to build their offshore team. Accounting firms have made a considerable push toward offshore staffing.
Before Pandemic about 6.2% of the accounting firms used offshore staffing, Today the no. has grown to a whopping 41.3%. Pandemic has changed the way accounting firms develop offshore teams.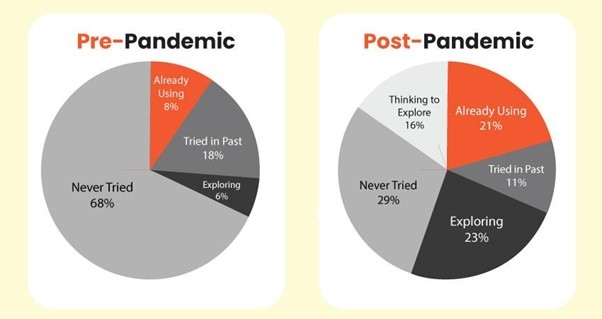 Accounting firms are now more open to hiring offshore staff, especially after COVID, and they have no qualms about notifying their clients that they are utilizing the global workforce. Most clients want excellent service, a positive experience, and services at an affordable cost. And it's the accountant's mindset, not their client's.
Key Findings
The hiring of offshore staff through offshore firms surged by 41% in 2020, as firms laid off full-time US employees during the Covid-19 economic restrictions periods.

The unemployment rate in the United States varied from the low single digits to 14% between Q2 and Q4 of 2020.

Inbound inquiries to offshore staff from US companies increased in correspondence with Covid-19 lockdown periods, with an initial surge of inquiries in Q2 2020 and the second wave of inquiries in Q4.

An interview reported that more than half of inbound leads were companies outsourcing work that was formerly completed by in-house staff.
PCPS Survey: Finding qualified staff was indeed most CPA firms' top concern, as per the 2019 PCPS CPA Firm Top Issues Survey.
90% of accounting firms prioritize data security and staff quality. The answer to this is to work with the right and successful offshoring accomplice.
Offshoring in accounting provides a substantial boost since it saves time at all levels. The necessity for multiple layers of financial statement scrutiny is also decreasing. As a result of the Covid-19 pandemic, offshoring is no longer a 'norm,' but rather a need. So, whether a person works in 'Bangalore or Boston,' 'Miami or Mumbai,' 'New York or New Delhi,' the key elements include the accounting staff's abilities and expertise, as well as the measures for ensuring data security.
Offshoring staffing solutions may be considered a sector that was substantial 'ahead of its time,' since it pushed for the significance of working from home and distant places long before the concept became widespread. Even when the globe was not ready to transition from a typical office-based working method to a home office process, offshore staffing solutions aided the notion by emphasizing cost and time savings. The pandemic, on the other hand, merely changed the 'optional' factor to mandatory. One might envision the magnitude of losses in terms of employment and economic activity if enterprises did not implement remote work when mobility restrictions were enforced due to the pandemic.
CPE Outsourcing Survey 2021
Almost all accounting firms and businesses in North America are aware of the terms 'offshore accounting' and 'tax preparation outsourcing.' There are currently hundreds of such firms with staff working from remote places across the world. While this concept is not new, it has gained popularity in the aftermath of the pandemic.
Why Outsource Accounting Services?
As you are undoubtedly aware, offshore staff are your employees that work remotely from another country. Offshore staffing provides numerous advantages, particularly in today's environment when "work from home" has become the norm:
Firstly, it helps you ramp up your workforce easily and swiftly without any overhead costs. This reduces the cost of acquiring offshore staff by 75%, allowing you to save dollars while improving profitability.

Secondly, you have control over the quality of work since it is simple to monitor and evaluate because offshore accounting staff utilizes the same technology and tools that you use.

Finally, you can pick the person that suits your company's needs in terms of experience or qualification.

If you are displeased with staff, you can replace him or her. As simple as that!
Business & Finance Articles on Business 2 Community
(3)