Yahoo Co-Founder Worried About AI's Impact On Society
Yahoo Co-Founder Worried About AI's Impact On Society
by Laurie Sullivan @lauriesullivan, March 9, 2017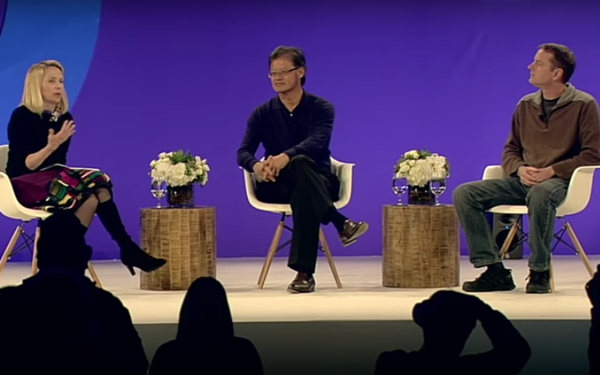 Yahoo co-founder David Filo is excited about the future of artificial intelligence — but worried about the impact of the technology on society. The technology moves rapidly, and some of the advances will create major societal impacts, while societies move much more slowly, Filo says.
"It will be interesting to see how society adapts to the changes," Filo said during a fireside chat with Yahoo co-founder Jerry Yang and CEO Marissa Mayer.
Yang calls AI an overused buzzword — but pointing to life sciences, he said that with lots of data and repetition, machine intelligence will do so much more. The convergence between life science and live data will have a major impact globally. Yang spoke about the clash of semiconductor-type processes, software and Big Data with simulation, with those tools applied to life science projects.
Yahoo turned 22 on March 2, 2017. And on the verge of the company's core assets dissolving into AOL — another company that just years ago had industry insiders thinking it wouldn't survive — Yahoo CEO Marissa Mayer sat down with co-founders Jerry Yang and David Filo to reflect on the Internet giant's history.
It all began at Stanford University, Yang said, when Filo, a teacher's assistant in one of his computer classes, gave him his first "B" grade on a midterm. Calling Yang a "typical entitled Stanford student," Filo had a different take on the meeting. He said the two met after joining a research group.
After the two became friends, they met for brainstorming sessions while in school and working on their doctoral thesis. During breaks from those sessions, Filo would add sites to Yahoo. He cites the creation of Yahoo to "dumb luck" — being in the right place at the right time.
But there were other ideas in the works at the time to take advance of the Internet. "We had a business plan to sell text books," Yang said.
That business plan didn't exactly pan out. Good thing, said Yang — otherwise the company would have run head on with Amazon.
And if the grey paint that Filo purchased at the store to paint Yahoo's offices didn't turn purple on the wall when it dried, the company would have never had its trademark color, Yang said.
MediaPost.com: Search Marketing Daily
(43)