YouTuber Marques Brownlee gets into the sneaker game with high tops for Atoms
Marques Brownlee never thought he would design a sneaker.
The technology-focused YouTuber says it all started with buying a mask from a company called Atoms during the pandemic. Just a few years later, Brownlee and Atoms are launching Sneaker 251, a custom designed high top informed by both the company's aesthetic and Brownlee's tastes.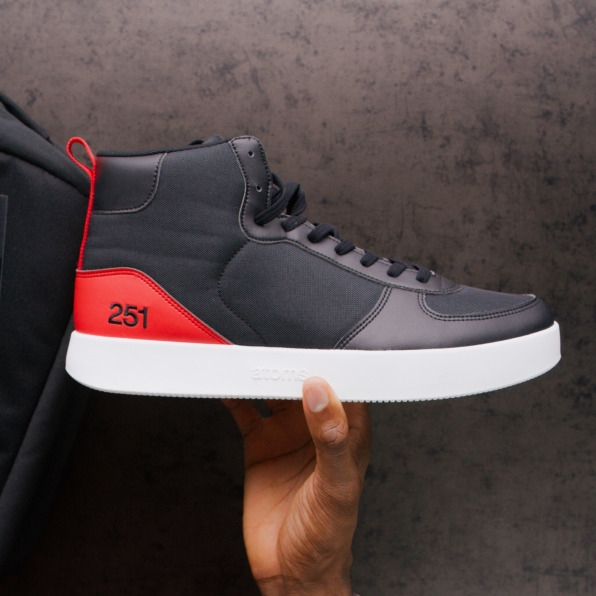 Brownlee rose to fame on YouTube, where he has nearly 17 million subscribers and posts videos relating to technology and product reviews. He's posted over 1,000 videos on his page. The sneaker marks the one of the first collaborations between a YouTuber and a shoe designer, signaling that content creators have officially entered the realm of product collaborations that were once the domain of sports figures and film, music, and TV stars.
In 2019, Sidra Qasim and Waqas Ali launched Atoms as a shoe brand dedicated to the "everyday." The company built its reputation on a slow, iterative design process. For the first three years, Atoms only sold one model of shoe on its site in various colors, preferring to hyper-focus on getting the details right rather than launching new designs.
Then, during the pandemic, Atoms ventured into making masks, which was how Brownlee first connected with the brand. "We reached out to him and said, 'We are fans of you, and we love the way you explain products. We would love to see if there is a world where we can work together to design a sneaker,'" Qasim says.
Brownlee was interested, but he insisted that the design process be truly collaborative. "To be perfectly honest, in other conversations with other potential shoe collabs, there was not a lot of flexibility for actual input on the shoe," he says. "[With Atoms], it became very clear very quickly that this is a new thing for both of us, and we could actually learn together and make something completely new and awesome."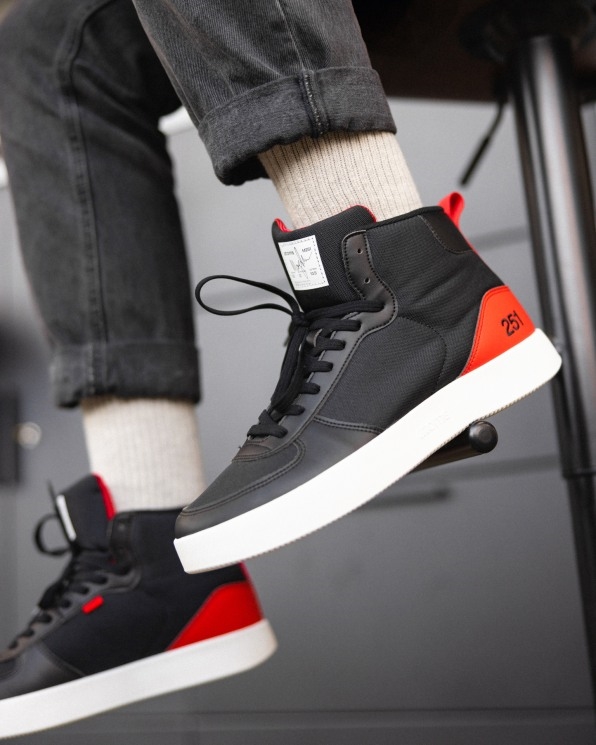 From the start, Brownlee knew he wanted to make a high top sneaker. Qasim says to remain true to Atoms's design ethos, they needed to transform the concept of a high top into a comfortable, everyday shoe rather than leaning into its history as a basketball sneaker.
"I'm not a shoe designer, but I do have a lot of shoes that I really like, and I have different elements sort of frankensteining together my ideal shoe, my daily-wear shoe, in my head," Brownlee says.
The shoe features elastic shoelaces and an elastic tongue to make them easy to slip on. The red and black material—Brownlee's signature colors—is intertwined with copper lining that counters any smells that might emanate from the feet. The shoes feature a customized outsole designed in Korea that's recyclable, lightweight, and durable. And they also feature a custom foam midsole, combined with an upper mesh to help with breathability.
Brownlee's sneakers are an unapologetic piece of collaborative merch for the YouTuber thanks to little easter egg customizations that nod to his YouTube career. The shoe feature Brownlee's signature on the tongue, as well as a red back loop. Most notably, the upper is embroidered with a "251" —the number represents the length of Brownlee's first YouTube video (2:51), which launched his career.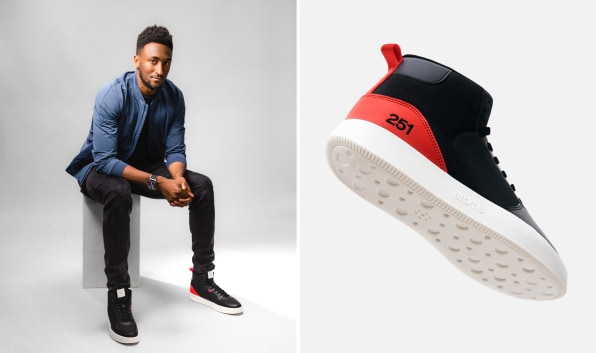 Ultimately, Brownlee says the designing process taught him how nuanced product design is, especially as someone who often reviews tech products for his YouTube channel.
"I think most of my input at the beginning was aesthetic, because I had a look that I liked and I had certain details that I liked," he says. "But I very quickly surfaced the other side of that coin, which is that it needs to be structurally sound and it needs to be well built. And those also have to work in harmony with the aesthetics."
The sneaker, which launched today, is being sold in a limited edition release for four weeks.
(2)