Chatbots in Banking: Which Are the Top 5 Banks That Have Adopted Chatbots? [Infographic]
— September 22, 2017
Banking Chatbots and their Saga
Chatbots indeed have the potential to replace the tasks of humans to a lot of extents. Due to Artificial Intelligence, chatbots can pursue and continue a conversation. That is the beauty of modern innovations.
According to a report released by Juniper, chatbots will be responsible for over $ 8 billion per annum of cost savings by 2022. The same website also shares that on an average, a chatbot inquiry saves more than 4 minutes in comparison to traditional call centres. So the virtual assistant plays an important role.
Banking industry can offer advice on a large scale and with better impact by using AI chatbots that can learn about user habits. According to a report released by Gartner, consumers will manage 85% of the total business associations with banks through Fintech chatbots by 2020.
Who's in the Intelligent Chatbot Banking?
Here are the top 5 banks globally that have adopted Chatbots: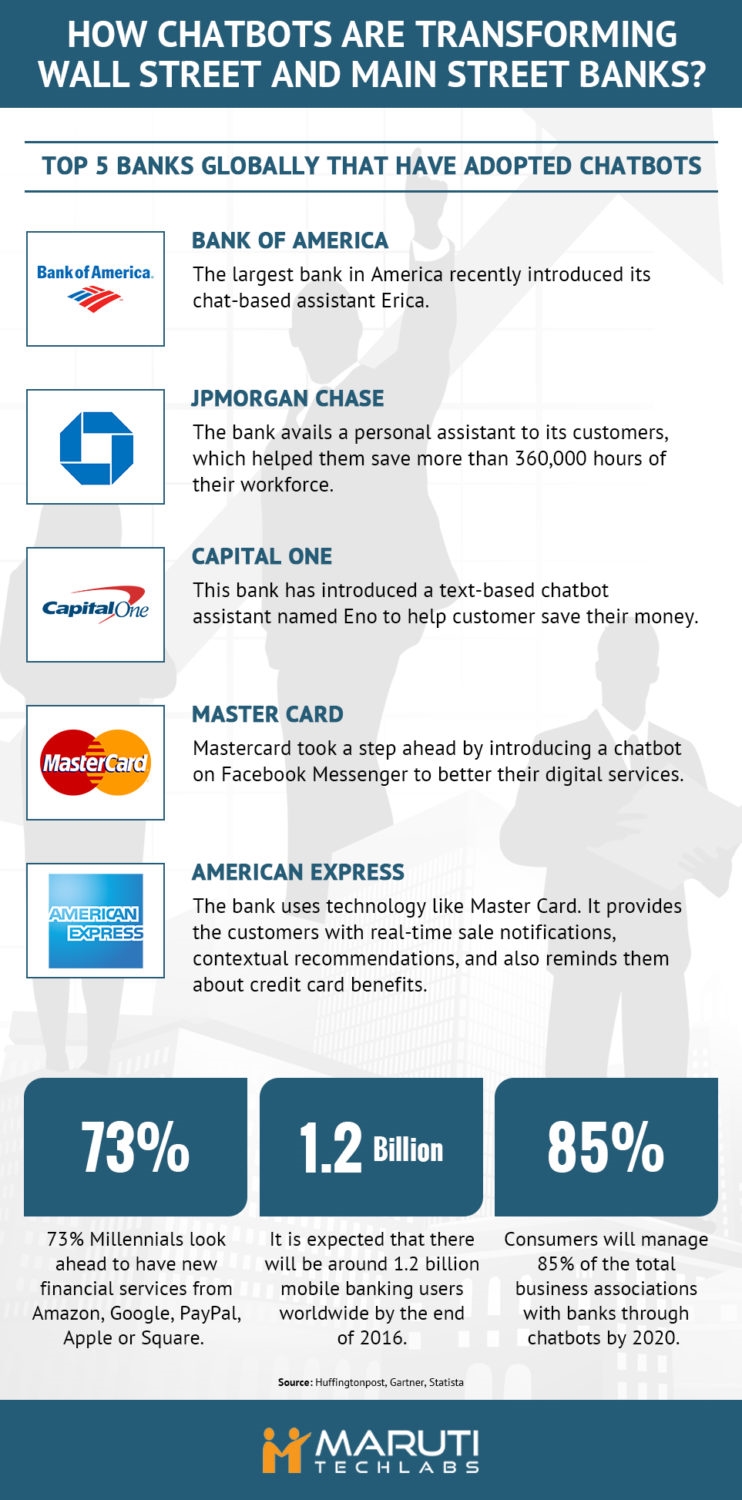 1. Bank of America: The largest bank in America recently introduced its chat-based assistant Erica. The assistant is designed to send notifications to customers, update them on their FICO score, identifying and acknowledging the areas where they can save money, and pay their bills.
2. JPMorgan Chase: The bank avails a personal assistant to its customers to add ease to its back office operations. By integrating this, they have managed to save more than 360,000 hours of their workforce.
3.Capital One: This bank has introduced a text-based chatbot assistant named Eno. The artificial assistant helps a customer to save their money.
4. Master Card: Mastercard took a step ahead by introducing a chatbot on Facebook Messenger to better their digital services. Customers can reap the benefits of the bots in reviewing their purchase history, spending habits, and account balance.
5. American Express: The bank uses technology like Master Card. It provides the customers with real-time sale notifications, contextual recommendations, and also reminds them about credit card benefits.
These were a few out of the many banks that are offering benefits to their customers with the help of chatbots. According to a survey report, 73% Millennials look ahead to have new financial services from Amazon, Google, PayPal, Apple or Square.
The increased demand indeed points toward the bright future of AI based Fintech Chatbots.
Conclusion
The introduction of IoT and the AI has worked like a charm for many corporations. The advancement in technology has served almost every industry in an unmatched and flawless manner. Their behavior and ability to build a firm command over analytics and consumer behavior not only make them stand ahead in the competition but also your organisation.
If you enjoyed the story, you can read the whole story on Banking chatbots and its benefits for the industry here:"How Chatbots are transforming Wall Street and Main Street Banks?"
Digital & Social Articles on Business 2 Community
(56)