How a bonkers horror indie about a murderous red dress became a clever satire of consumerism
By KC Ifeanyi
When British indie filmmaker Peter Strickland started working a new script back in 2015, he was feeling nostalgic. He'd recently written and directed 2014's critically acclaimed S&M fantasia The Duke of Burgundy, and he wanted to focus his next movie on a department store, but through his childhood point of view.
"Department stores were, in themselves, such a great setting. I love the artifice of them," Strickland says. "I tried to use a child's perspective where, as a kid, you don't know what a lot of things do. You don't know where a dumbwaiter leads."
But this was no rosy trip down memory lane. Strickland's recollections of sprawling shops fed into a story of bleeding mannequins, sinister salesclerk witches, and a murderous red dress—the surrealist horror nightmare that is In Fabric.
"It's a very prosaic world," Strickland says. "But within that, you kind of look for the unfamiliar within the familiar."
In Fabric follows Sheila (veteran British actress Marianne Jean-Baptiste), a 50-something divorcée who starts dipping her toe back into romance. Once her dating ad in the newspaper gets some responses, she heeds the call of an unsettling TV ad for a blowout sale at a local department store, Dentley & Soper's, and buys a new dress for a boost of self-confidence. As it turns out, the blood-red frock is cursed and will stop at nothing to inflict terror, destruction, and death to whoever wears it.
In theaters today (and on demand December 10), the film pays homage to the '60s and '70s Italian horror films of Dario Argento and Mario Bava, while also tipping its hat to the 1948 classic The Red Shoes, a grim adaptation of a fairy tale about a ballerina who falls victim to a pair of possessed red pointe shoes. But In Fabric is no knockoff. Though set in the '90s, it is a surprising reflection of our times.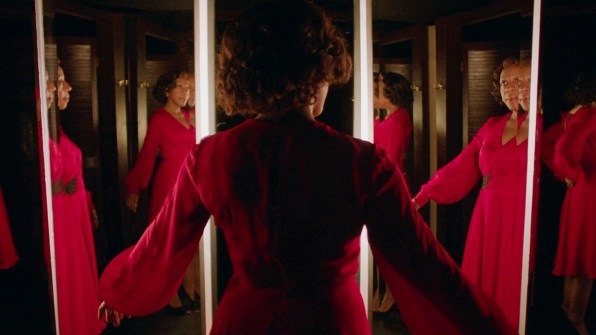 The movie subtly weaves in such topical themes as the death of brick-and-mortar retail and the entropy of consumerism that, in the context of horror, become all the more alarming.
It's estimated that by the end of this year, up to 12,000 stores in the U.S. could close. In the U.K, vacancy rates along the country's famous "High Street" shopping districts hit 10.3% in July, the highest it's ever been in four years. Jacksons Corner, the department store in Strickland's hometown of Reading that was the source of his inspiration for In Fabric, closed in 2013 after 138 years in business.
"It was not an original intention, but definitely when I was writing it, you could feel that High Street was becoming a haunted space," he says. "So there was an element of this lost past—that the future is, perhaps, people working in warehouses [for online retailers] becoming more and more common."
In Fabric is set in 1993, but the world inside the department store seems to have stood still since the 1800s, with salesclerks (like Fatma Mohamed's Miss Luckmoore) in Victorian style uniforms. And by placing the film in the distant, predigital-everything past, Strickland found a perfect entry point for Sheila's dating experience.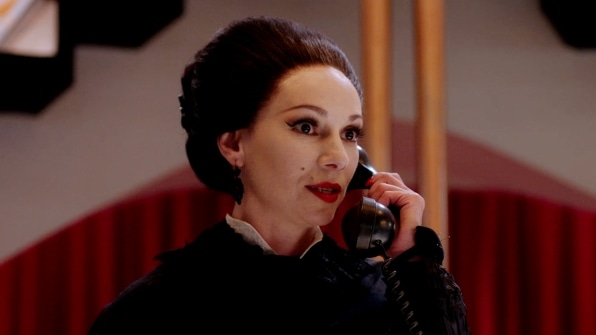 "I had this idea of introducing a character in a lonely heart [newspaper] advert," he says. "Obviously with Tinder, that doesn't happen now, but with that small box, you've got such little space to sell yourself and to say what you want out of someone else. It's sort of two vital things that you've got to convey in such a small space."
Though it's tempting to imagine In Fabric as an over-the-top cautionary tale against the horrors of rampant consumerism, that was never Strickland's intention.
"I think maybe subconsciously [that message] was there," he says. "[In Fabric] tapped into ideas about desire, how desire is sold. So that is caught up in consumerism, but I didn't want to be judgmental about it. It's very important to not see the dress as this avenging angel. I think it was more of a mischievous satire than wanting to make any kind of statement or comment."
Fast Company , Read Full Story
(12)