Kamala Harris's white suit was a nod to the suffragists before her—but that's only part of the story
By Einav Rabinovitch-Fox
Suffragists deployed white to convey these messages, but they also turned to a much more diverse palette.
The 1913 Washington, D.C., parade was the first national event that put the cause of the suffragists on front pages of newspapers around the country. Organizers used an intricate color scheme to create an impression of harmony and order. Marchers were divided by professions, countries, and states, and each group adopted a distinct color. Social workers wore dark blue, educators and students wore green, writers wore white and purple, and artists wore pale rose.
Being the media-savvy women that they were, suffragists realized that it wasn't enough to create an appealing impression of themselves. They also needed to come up with a recognizable brand. Inspired by the British suffragettes and their campaign colors—purple, white, and green—the National Woman's Party also adopted a set of three colors: purple, white, and golden yellow.
They replaced green with yellow to pay tribute to Susan B. Anthony and Elizabeth Cady Stanton, who used the sunflower—Kansas's state flower—when they campaigned for a failed statewide suffrage referendum in 1867.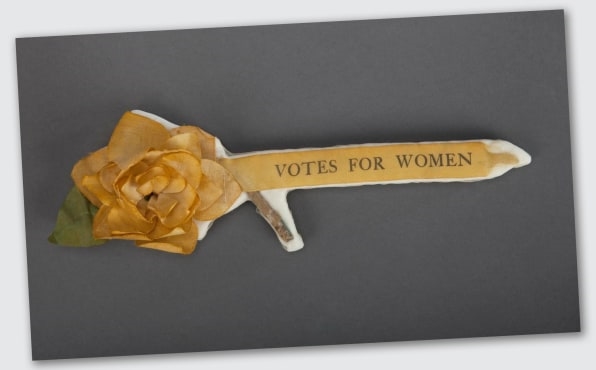 Crafting a contrast
These American suffrage colors—purple, white, and yellow—stood for loyalty, purity, and hope, respectively. And while all three of them were used during parades, it was the brightness of the white that left the biggest impression.
In images of suffragists marching in formation, their bright clothing contrasts sharply with the crowds of men in dark-colored suits who line the sidewalks.
(1)