Revlon and Playboy weirdly have this one brand trait in common
By Christopher Zara
Admittedly, you have to try pretty hard to find common ground between Revlon and Playboy, but it turns out the cosmetics company and the men's lifestyle magazine share a characteristic: When ranked for favorability, they showed the biggest gaps in brand perception between women and men.
That's according to a new report from the market research firm Morning Consult, which pulled data from over 250,000 survey interviews to rank the "most loved brands" among American consumers. Revlon and Playboy were on opposite ends of the gender divide, with the former loved by far more women and the latter loved by more men.
Together, the brands showed the biggest gender favorability gaps out of the more than 1,000 companies ranked. Revlon had a favorability rating of 61.5 among women, compared to 44.7 for the general consumer population, a difference of 16.8 points. Playboy is similarly divisive, but it's also far less liked in general. It had a favorability rating of only 26.1 among male consumers, and a rating of just 3 among the general population. That's a gap of 23.1 points, the largest of any company on the list.
Given Playboy magazine's decidedly outdated editorial content—and the tarnished legacy of its late founder—the brand's low ranking is not exactly a surprise.
That said, neither of these brands cracked the top 25 of the "most loved" on the list. According to Morning Consult, the number one brand was Google, with a net favorability of 78.7. Hershey's, Pillsbury, Amazon, and UPS rounded out the top five.
You can check out the full list here.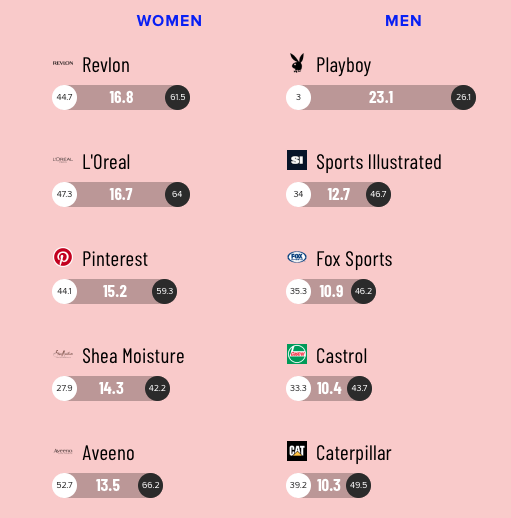 (5)