Snapchat bulks up location-based ad filters & launches in-store analytics tool
Advertisers can now target ads based on a radius around a specific geographic point or a location type — like a beach, a movie theater or a university.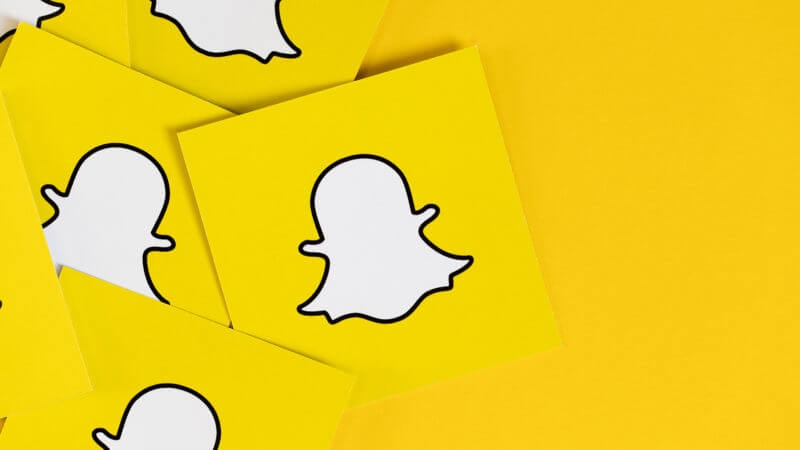 Snapchat is continuing its focus on location-based advertising initiatives.
The app is rolling out three new ad tools today, two that include location-based targeting options and an in-store analytics tool that lets advertisers track traffic at their brick-and-mortar locations.
Location categories
Of the two new location-based ad features, the first is a location category filter. Advertisers can use it to target an audience based on location type — like a beach, a movie theater or a university.
"For example, a swimsuit brand can reach Snapchatters currently at beaches nationwide, or a movie studio can reach them at the theater," says Snapchat. "Advertisers can also get more specific by narrowing down their location categories by state, city, DMA, and more."
According to Snapchat, advertisers have more than 150 location categories to choose from in the US.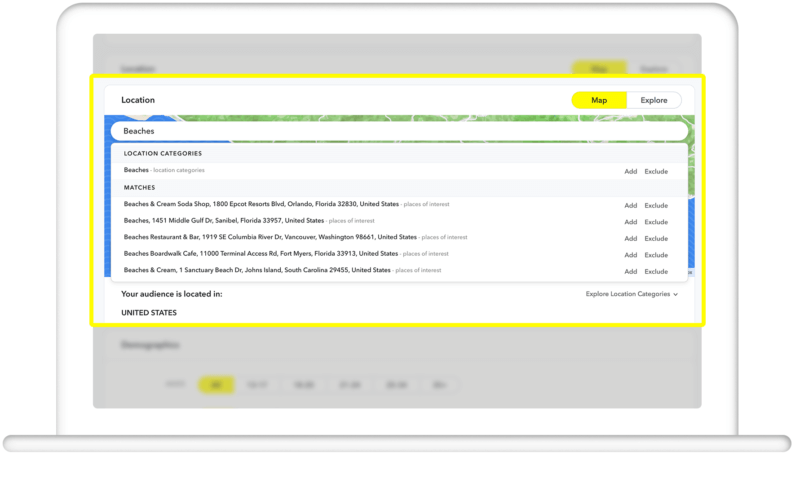 The company says its location-type ad filter is unique — offering an ad-targeting option that would be difficult to achieve on any other major ad platform.
Radius targeting
New radius-targeting lets advertisers target audiences based on a specific geographic point. Advertisers can use the radius targeting to add or exclude a geographic area based on a radius around an address, city center, pin or point of interest across the globe.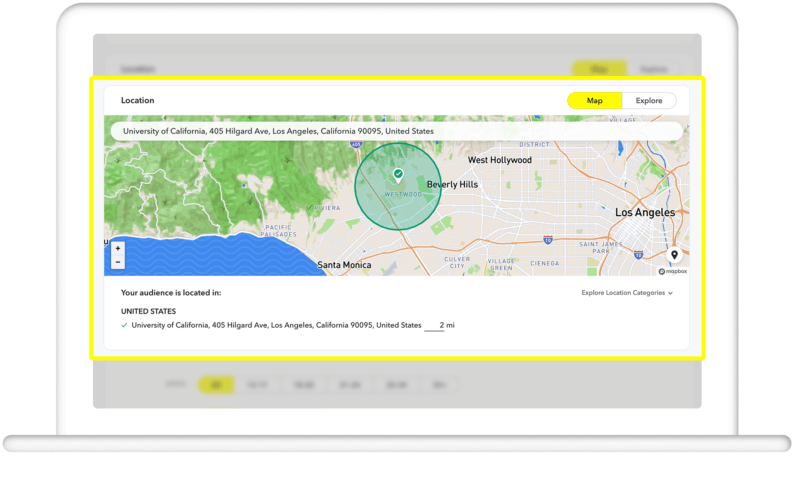 Snapchat referenced two beta users of the radius-targeting feature: Hopper, a travel planning website, and Nordstrom Rack. Hopper reported the radius-targeting ad filter cut its costs per impression (CPIs) in half and lifted its booking rate to four times what it was experiencing on other social platforms.
Nordstrom Rack said the radius-targeting filter helped drive foot traffic to a new store opening when the ads were used to target users in a 20-mile radius around its newest retail store location but didn't give any specific numbers.
Both the location category and radius-targeting ad filters are accessible in Snapchat's Ads Manager platform via a new location search bar, a tool that helps advertisers quickly identify a location category, address, city, neighborhood or point of interest.
Foot Traffic Insights
For advertisers with brick-and-mortar locations, Snapchat has launched a beta of its new Foot Traffic Insights tool to track in-store traffic of Snapchat users visiting a specific location and provide information about their age, gender and interests.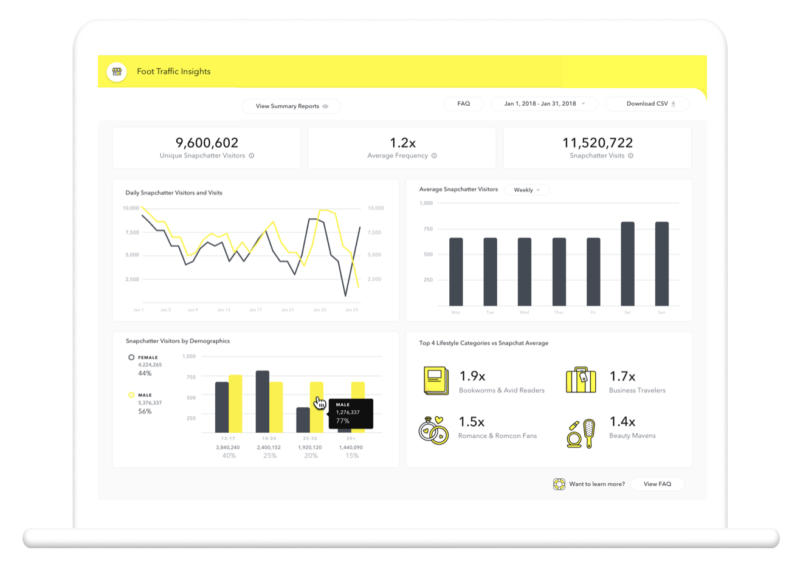 Right now, Snapchat says its insights analytics tool is launching in beta and is available to "hundreds" of brick-and-mortar brands but will be available to all advertisers soon through the Ads Manager platform. According to Snapchat, the insights tool is free and independent of advertising spend.
Positioning itself as a "location-aware camera" app, Snapchat has invested heavily in location-based technology with the acquisition of companies like Placed and Zenly. It says these latest ad filters are the "first of many" location-centric features to come this year.
The company also notes that even though location plays a significant role in its advertising offerings, it is committed to user privacy: "We don't share any location information that can identify specific Snapchatters to advertisers, and all Snapchatters can choose whether to allow use of location services."
Update, March 23, 2018: On the same day Snapchat announced its new location-based add targeting options, it also launched "Explore" for users. Defined as a "tour guide to what's happening on Snap Map," Snapchat's Explore will display automatic updates on the map feature from users who have opted-in to have their location shared.
Snap Map doesn't include ads right now, but the company's move to make the feature more engaging — combined with its focus on location-based advertising initiatives — points to a possible ad expansion to Snapchat's map feature.
---
Marketing Land – Internet Marketing News, Strategies & Tips
(126)