YouTube Brand Safety, Suitability Becomes Focus Of Pixability, DoubleVerify Partnership
YouTube Brand Safety, Suitability Becomes Focus Of Pixability, DoubleVerify Partnership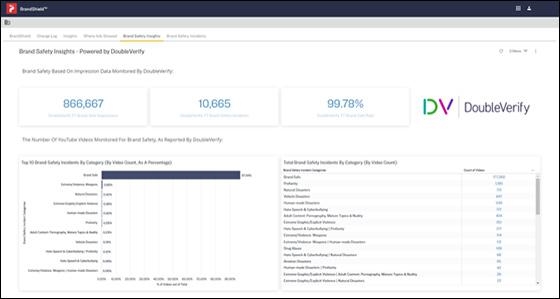 Pixability, part of a YouTube measurement program, plans to announce an integration with DoubleVerify on Thursday that gives advertisers new measurement tools related to brand safety and suitability.
The partnership now gives brands one place to view pre-targeting and post-campaign verification, explains David George, CEO at Pixability, a data technology company focused on supporting brands that advertise on YouTube. It came out of MIT about 10 years ago.
George called the partnership the "first self-service solution for programmatic buyers to get pre-campaign targeting on YouTube that's brand safe and suitable, as well as post-campaign reporting and verification to see where the ad ran."
Advertisers think it's a step in a positive direction.
One that spent more than $10 billion on advertising and other marketing during its last fiscal year.
Marc Pritchard, Chief Brand Officer at Procter & Gamble Co., recently told Bloomberg that YouTube has made "dramatic improvements" during the past few years to clean up the site and devise a way to reach a clear audience — and do it in a brand-safe way with relevant content.
He may be referring to YouTube's program that certifies companies for brand suitability and textual targeting, content insights and brand safety. Pixability now holds certification for the first two.
The DoubleVerify and Pixability integration lives within the BrandShield platform to give brands and agencies the ability to access pre-bid YouTube inventory, then measure how it performs in campaigns by using DoubleVerify's brand safety reporting.
According to a recent Pixability survey of 177 U.S. media buying agencies, 46% of agencies are running YouTube campaigns without the help of a third-party campaign management partner.
Agencies are increasingly looking to access contextually-relevant inventory on YouTube, while measuring safety levels with the confidence of an objective third-party. This integration in Pixability's BrandShield combines both functions for self-serve teams on DV360, Google Ads, and PixabilityONE. In addition, advertisers can also leverage the value of this integration via managed services for clients leveraging Pixability for YouTube campaign execution, performance, and insights.
George claims many firsts in this partnership, such as the first to integrate with DoubleVerify's brand safety insights for YouTube into a video media-buying platform, and the first industry solution where a brand or agency running self-serve YouTube campaigns can access curated inclusion list inventory and measure levels of safety from an independent provider.
Pixability has delivered brand-suitable solutions for YouTube for more than a decade, patenting its technology in 2012.
Last year, the company made its BrandShield technology available to self-serve clients for the first time. This new integrated version of BrandShield delivers brand suitability from Pixability certified by Google's YouTube Measurement Program (YTMP). And it delivers measurement from DoubleVerify, a YTMP-certified provider of brand safety reporting in one platform, rather than two.
(62)